If your Android device did not come with a dedicated File sharing the app and if you are looking for the best File sharing app, then read our guide comparing SHAREit, Xender and Files Go to find the best File Sharing App for Android.
SHAREit is the most popular file-sharing app available on the Play Store, while Xender and Files Go can take the second and third spots respectively. Files Go by Google is relatively new but has gained the user based slowly since the launch thanks to its clean and minimal ad-less interface.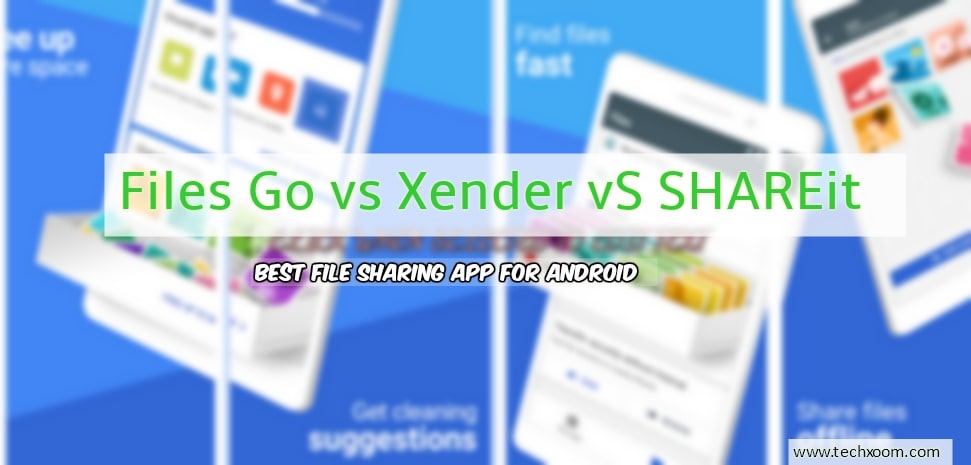 Since we have three best file sharing apps for Android, we decided pit Xender, SHAREit and File Go against each other to find the best file sharing app for Android.
Related Articles:
Design and Ease of Use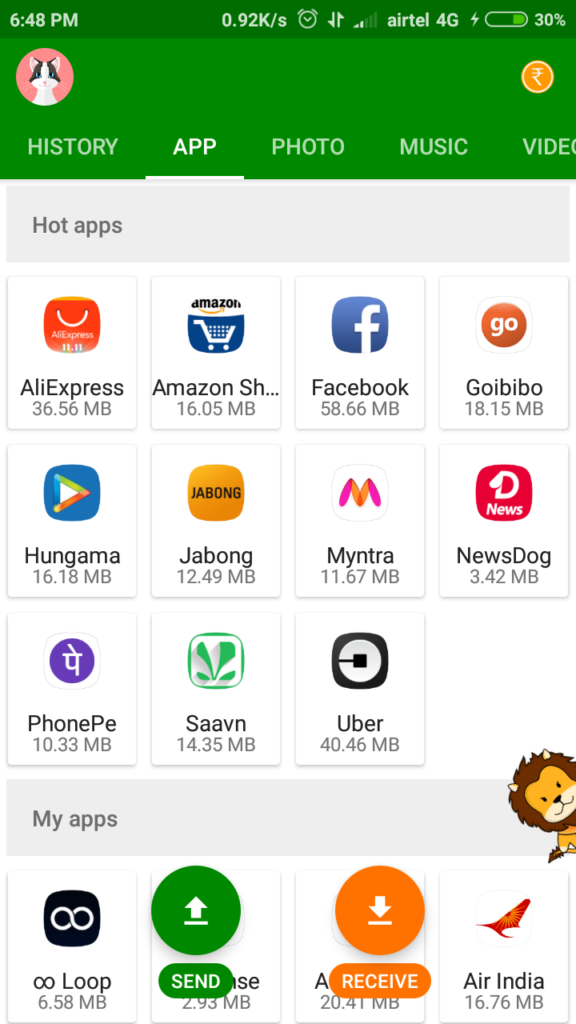 The Xender app by default opens the app tab that lists all the installed and sharable apps on your smartphone. There are two buttons at the bottom of the display – Send and Receive. Swiping to the left brings up Photos, Videos, and Music tabs respectively. To share a file, tap on the file and tap Send.
The SHAREit app shows the Send and Receive button at the top in the home screen, and at the bottom, you can browse the videos, music, and pictures tapping on the respective tabs. The SHAREit layout is a bit cluttered with unnecessary feeds and ads, which makes Xender look much better and File Go cleaner.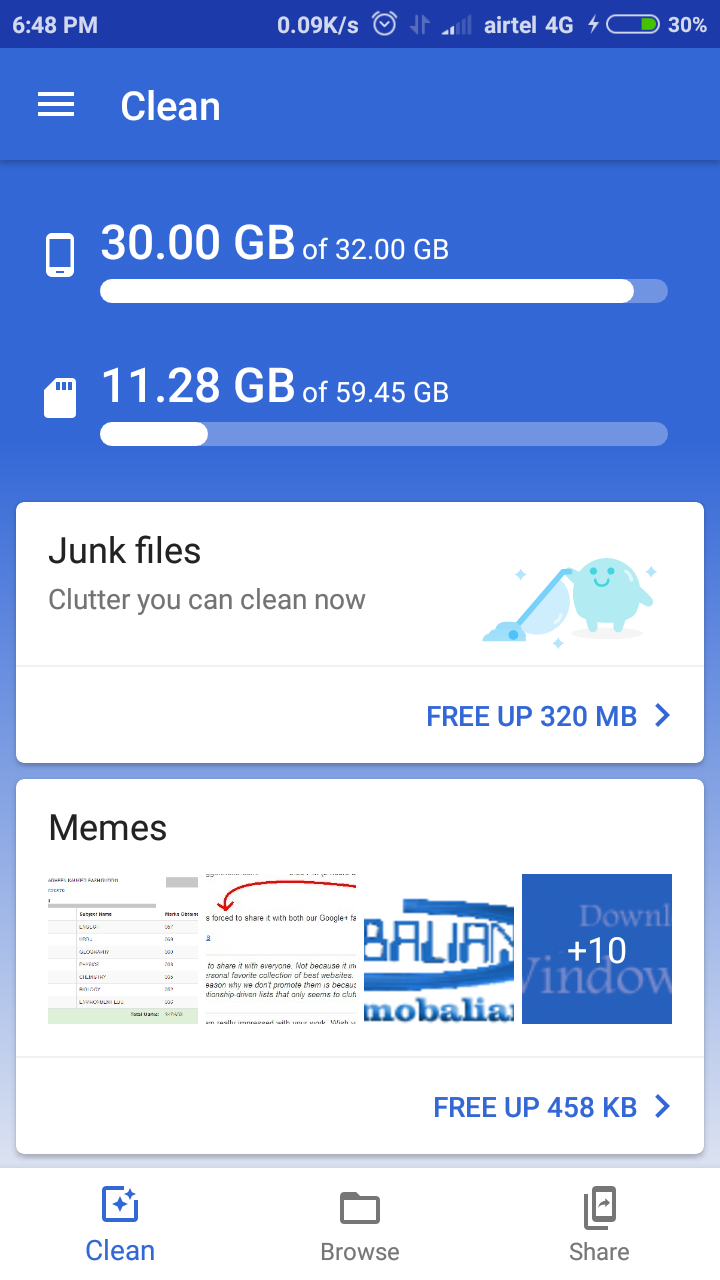 The Files Go app, on the other hand, is the simplest and cleanest of the three. On the home screen, the app shows internal and external storage occupied by the files on your smartphone.
The Files Go app has three main tabs – Clean, Browse and Share.
Related Articles:
The app opens in the "Clean" tab by default, as a result, it shows the amount of data you can free up by deleting the Junk files and as well any other low resolutions images, duplicate files and large files that the app finds unnecessary. The Move to SD card option in the Clean tab can help you free internal storage by moving the large files to the SD card.
File Transfer Speed
All the apps claim to offer several MBps of file transfer speed, but honestly, the file transfer speed depends on a lot of things and not just on app optimization.
The SHAREit claims a maximum speed of 20MBps and the Xender claims a maximum speed of 40MBps. However, the Files GO claims to offer 61 MBps of transfer speed making it the fastest file sharing app on the paper. But, when it comes to performance, all three apps perform similarly.
File Type Compatibility
All three apps can share installed apps on your smartphone with any other compatible Android smartphones. Xender, SHAREit, and File Go can share and support most of the common file types including images, audio, video and pdf files and even APK files.
However, only SHAREit and Xender allow you to share folders with other devices. The Files Go app is yet to get this feature.
Also, SHAREit can send multiple types of files at one go whereas Xender and Files Go can send only one type of file at a time. Let's say if you want to send a Video File and an app in a session, you can do it with SHAREit but not with Files GO and Xender.
Cross-Platform Support
SHAREit and Xender are cross-platform file sharing apps that are available on all the major platforms including iOS, Android, Windows and Mac OSX.
Files Go on the other hand being a Google product is currently limited itself to the Android platform. So, if your buddies are not on the Android platform, you better off using Xender or SHAREit than Files Go.
Multiple Device Sharing
If you want to share a file with more than one device at a time, the Multi-user sharing feature comes handy. Both Xender and SHAREit support this feature.
On Xender you have to use the web share feature where the receiver has to enter a given web address in their browser to be able to receive the file.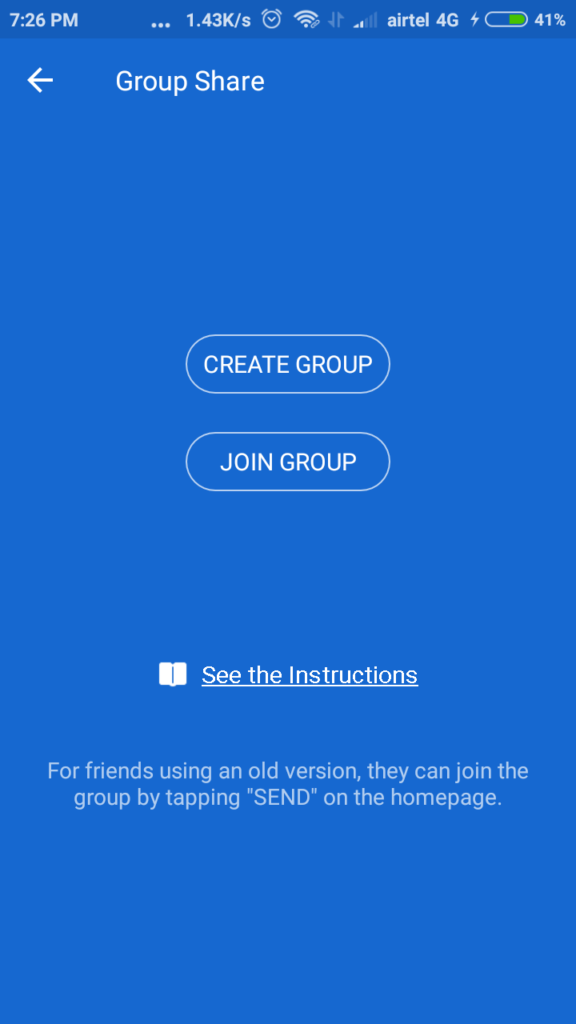 On SHAREit the feature is known as Group Share. First, you need to create a group and wait for others to join that group. All the joined SHAREit users of the group can receive the file simultaneously.
Related Articles:
Files Go does not support this feature yet, so you will have to do with one-to-one sharing for the time being. If we have to compare, Xender makes it easy to share a file with multiple users with its Web Share feature.
Compatibility with PC
SHAREit comes with a dedicated Windows PC app that can be downloaded from the official website. SHAREit for PC offers a clean and easy to use interface, unlike its mobile counterpart.
Xender does not have a dedicated app for PC. However, Xender does offer a web version of its app for PC users. One can visit web.xender.com and scan the QR code to view all the files and download them to the PC.
Files Go on the other hand offers nothing but an Android app. So, you won't be able to connect Files Go to your PC and share files and folders.
Other Features
Search – Files Go comes with a search function that can be accessed from the Browse tab. Xender also has a search feature but you need to open the Files tab to access it. SHAREit also offers a search feature that can be used to find any kind of file including .apk and documents. The feature is visible inside the Send tab and Local tab.
File Viewer – Files Go comes with a file viewer that allows you to browse any folders directly on your smartphone.SHAREit also allows you to view all the files from the Files tab. Xender also offers a file viewer. None of the apps support the moving and copying of files.
Ads – Files GO, and Xender takes the cake here with their add-less user interface. SHAREit, on the other hand, is a bit cluttered with all the promotions and ads in the feed.
Related Articles:
History – SHAREit and Xender offer view history option. You can check the sent and received files to find them easily. Files Go misses out on view history feature as of now.
Xender Vs Files Go Vs SHAREit – What's our Pick?
SHAREit and Xender both offer a similar set of features. Files Go offers a clean, and ad-less user interface with a minimalistic design but lacks cross-platform compatibility making it limited to the Android devices only.
SHAREit app offers all the features that Xender has on offer but the home screen of the SHAREIt app is cluttered with unwanted feeds and ads which is a bit annoying for anyone.
Xender offers the best of both worlds. It has all the goodness of SHAREit as well as an ad-less organized user interface of Files Go. So, if I had to pick one for my Android device, I would go with Xender, but SHAREit is best for those who don't mind ads in the app.