SHAREit is the most popular cross-platform file sharing app that allows you to share any and every kind of file with other SHAREit users. You can transfer content like video, audio, music, documents and more with just a tap. SHAREit being a cross-platform app is available for all the platforms, So, here is how to download SHAREit for Android, iOS, and PC.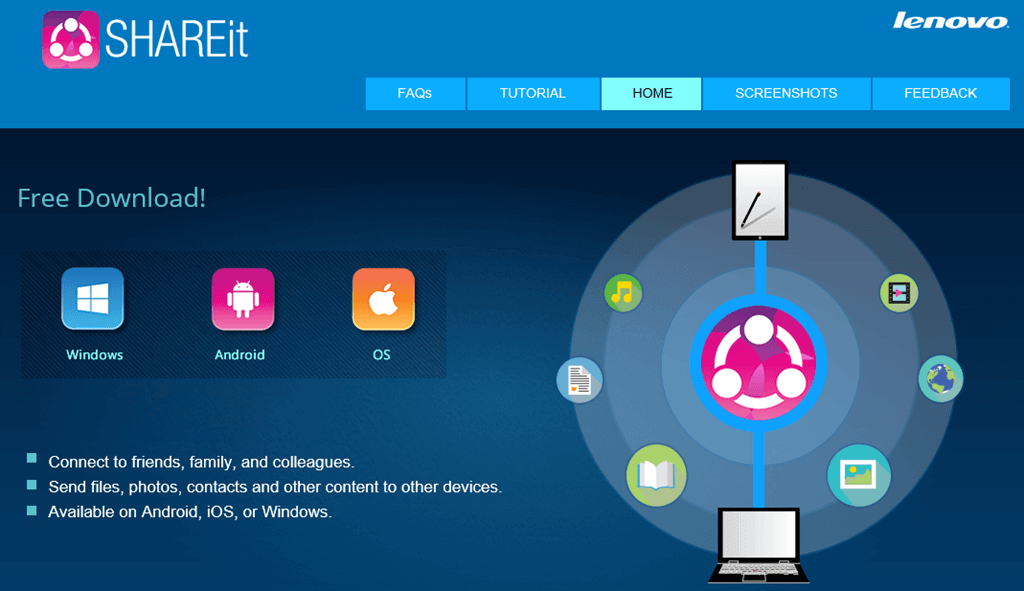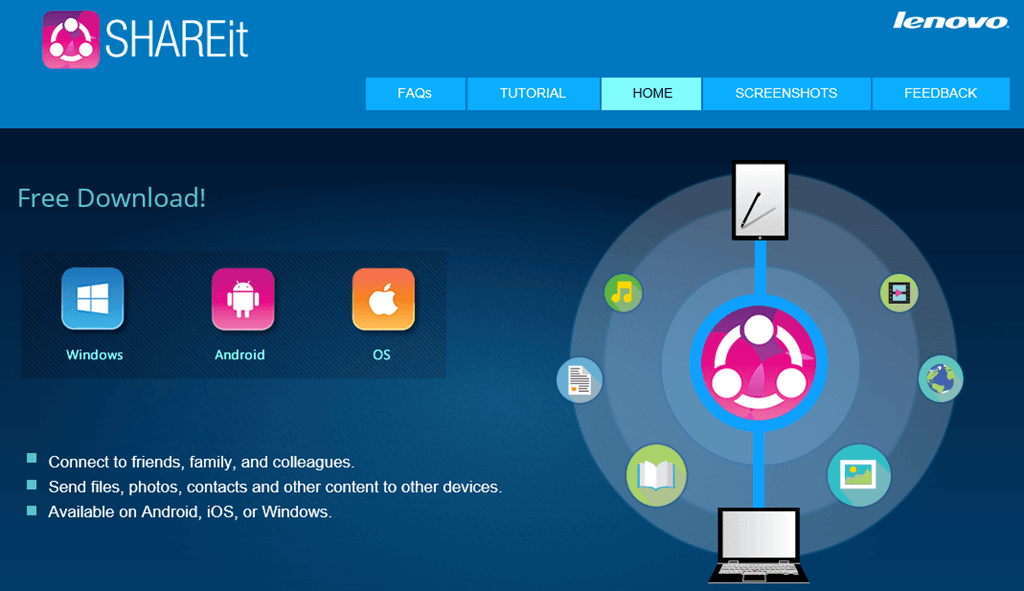 SHAREit claims to be the best file transfer app and rightly so. Though there are other file transfer apps, SHAREit was one of the first apps to introduce over the WiFi file transfer concept. Transfer of files on SHAREit does not use any data, and the transfer is blazing fast. You can also watch the videos offline on SHAREit app as it comes with a built-in video player that supports almost all the video formats.
You can also use the app to find latest and trending music online thanks to the inbuilt music player. Find and share GIF, Wallpaper, and Sticker to personalize your mobile experience.
For SHAREit to work, both the devices (receiving and sending) should be connected to the same WiFi network.
Features of SHAREit
Over 600 Million users worldwide use SHAREit to transfer files.
Share it claims the app is 200 times faster than Bluetooth transfer with up to 20MBps of speed.
Transfer all kind of files including Photos, Videos, Music, Installed Apps and more.
Inbuilt video player to watch video on the app with support for most of video file formats.
SHAREit offers tens of millions of high-quality playlist that you can play online and offline.
Inbuilt music player removes the need for any other third-party music player.
Get more personalized contents with GIFs, Wallpaper, and stickers.
Also read: How to Get Paid iPhone and iPad Apps for Free – No Jailbreak
Download SHAREit for Android
SHAREit is officially available for the Android devices on the Google Play Store. Here is how to download SAHREit for Android.
Open Google PlayStore on your Phone and search for the SHAREit app or visit this link using your device to open the app in Google Play Store.
Next, tap on the Install button and wait for the downloading of the app to finish.
The app will automatically install after the download is finished.
Download SHAREit APK
You can also use the SHAREit apk to install the app directly from the official website. Here is how to do it.
Open Google Chrome or any other web browser on your Android phone and visit SHAREit official website here.
Tap on Download to download the SHAREit APK on your phone.
Once the download is complete, tap on the APK file to open it.
When asked to confirm the installation process, tap on Install and the app will be installed on your Android device.
Also read: Download Lucky Patcher for Android and iOS
Download SHAREit for Windows PC
If you want to share files between an Android smartphone and Windows PC then you can do that using the official SHAREit client for PC.
Open the web browser on your Windows PC.
Go to www.ushareit.com. On the home page click on Windows and then click on Download.
The SHAREit installer will now start downloading. Once the download is complete, run the installer to install the application on PC.
To transfer files from PC to Android phone using SHAREit, do the following:
Launch SHAREit on PC and click on Send.
Launch SHAREit on Android phone and tap on Recieve.
Make sure both the devices are connected to the same WiFi network.
Select the files you want to transfer to PC and select the Android device detected by SHAREit on PC to begin the transfer.
Also read: Spotify++ Download and Install on iOS – No Jailbreak
SHAREit for iOS
Being a cross-platform file sharing apps means that the app should be available on all the major platforms. If you are an iPhone or iPad user, SHAREit is officially available on the App Store.
Open Safari browser on your iPhone.
Go to SHAREit link on the App Store. You can also find the SHAREit app from the App Store on your iPhone.
Install it, and you can start transferring files to any other SHAREit compatible device.