iFunBox is the most popular third-party File Manager available for the iPhone, iPad, and iPad. Basically, iFunBox is the tool you need to manage your iOS device files using the PC. Sine, iOS lacks any ultimate file manager as of now, iFunbox has been crowned as the best iOS file manager for PC. If you want to install iFunbox on Mac and Windows, here is how to do it.
What is iFunbox and how to use iFunbox?
iFunbox is a great file manager that allows you to browse the contents of your Apple device without any restrictions. You can use the application to manage music, Apps, and ringtones of your iOS device without having to jailbreak it.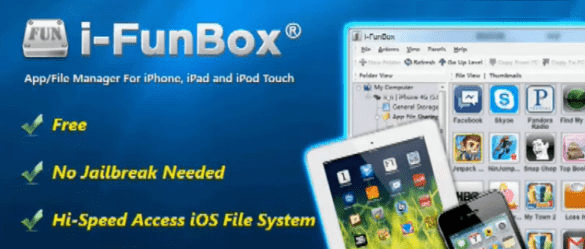 iFunbox also allows you to transfer files from iOS devices and PC to PC and iOS devices. However, having a jailbroken iOS device has its own advantages with the iFunbox. For example, you can convert and upload an image to the iPhone as wallpaper but only on jailbroken iOS devices.
Another useful feature offered by iFunbox is its ability to install the IPA file to your iOS device even if its a non-jailbroken device.
Features of iFunbox
Manage all the files on your iOS device using the PC or Mac.
Transfer files from and to the iOS device without any restrictions.
Install IPA files on jailbroken iOS devices.
Gain access to the root file of an iOS device without jailbreak.
Download iFunbox for Windows and Mac
You can download the iFunbox application to Mac and Windows from its official website. Open any web browser on your PC and visit this link.
Click on the latest version of the iFunBox application and click Download.
Install the application once the download is complete.
How to Use iFunbox
Using iFunbox with your iOS device is easy. Follow the steps below to know how to use iFunbox to manage files on your iOS device.
Launch iFunbox on your Mac and PC.
Next, connect the iOS device to the PC or Mac. Wait for iFunbox to detect the device.
When detected, iFunbox will show all the contents from the connected iPhone on iFunbox explorer window.
Note: To be able to install third-party or cracked apps using iFunbox on your iOS device, you should have a jailbroken device. If you want to install the IPA file without jailbreak, use Cydia Impactor instead.
Cydia Impactor
Cydia Impactor is again one of the most popular tools available for Windows and Mac OSX devices. It allows the users to install the IPA file on any iOS device without jailbreaking it.
Cydia Impactor uses Apple's developer account feature that allows iOS app developers to test their apps on any iOS device for a short period of 7 days by digitally signing the certificate using Cydia Impactor. All you need to install the IPA file on the iOS device without jailbreak is an IPA file along with an Apple account. Learn more about how to install Cydia Impactor on Windows PC here.