Previously we have discussed AirShou Screen recorder for iOS and today we look at another screen recorder for iOS known as BB Rec. BB Rec Screen Recorder helps you to record your iPhone and iPad display without the need for an external application.
The common ways to record the iPhone screen include connecting the iPhone to PC and recording the screen using a third-party or external application. But that is a cumbersome process and requires you to have a PC with you all the time. Other ways include jailbreaking iPhone and installing screen recording apps.
But many of the users don't want to jailbreak iOS device just to install a screen recording app for the iOS device. While the Jailbreaking has its pros and cons to deal with, you can learn more about jailbreaking iOS 13 by Yalu Jailbreak using Cydia Impactor.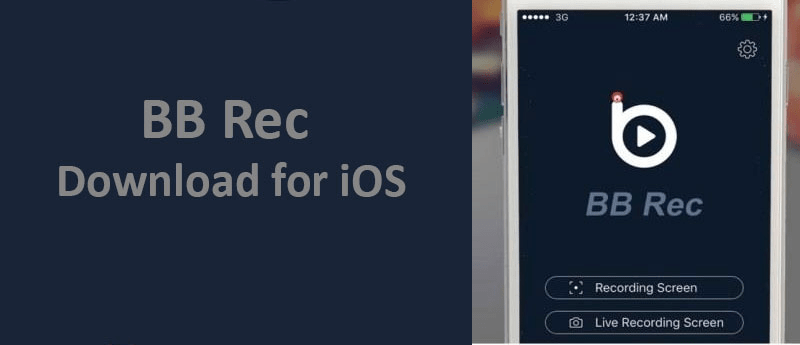 In case you don't have jailbroken iPhone, apps like BB Rec comes to the rescue. With up to 2.5 hours of screen recording time, you can record gameplay and video tutorials for hours without any problem.
Features of BB Rec Screen Recorder for iOS
Up to 2.5 hours of continuous screen recording of your long session video tutorials.
High resolution and good quality screen recording that makes your video look crisp and clear even when played on a large display.
Ability to share recorded videos directly to social media account with built-in share options.
Easy to use user interface with minimal navigation so that you can focus more on your work than learning how to use the app.
BB Rec Screen Recorder for iOS is compatible with iOS 9 and above.
Note: BB Rec screen recorder is not officially available on the App Store anymore. We will be using a workaround to install the BB Rec app on the iPhone.
This method involves using a third-party PC client called vShare. The vShare client allows you to install apps from its store for free.
Install BB Rec Screen Recorder for iOS
Begin with installing a vShare PC client on your PC. You can get the vShare PC client from here. Run the installer to install vShare on PC.
Connect the iPhone or iPad to the PC using the USB cable and let vShare detect the iPhone.
Click the Instal vShare icon from the vShare PC client. This will install vShare on your iPhone. Click Allow or press OK when asked to confirm the installation.
Once the vShare app is installed on your phone, it is time to download the BB Rec app.
Disconnect your iPhone from the PC and launch the vShare app from the home screen.
Search for the BB Rec app in vShare and install it on the iPhone. They may take a few minutes to download.
Follow the on-screen instructions to install the app.
You can launch the BB Rec app on the home screen of your iPhone. Launch the app and start recording the screen. You can record gameplay videos as well and any video tutorials using the app.