vShare for iOS is an excellent third-party apps store. You can install vShare on iPhone, iPad, and iPod. The app is also available for Android and as a PC client. The vShare comes in both a paid and free version that has its pros and cons. But, overall, vShare is the go-to app when you want to have a third-party app store for a non-jailbroken device. vShare being a third-party app store may stop working when a new iOS update arrives for your iPhone. In that case, you may wish to have an alternative to vShare for iOS. In today's post, I will be sharing the best vShare alternatives for iOS.
vShare Alternatives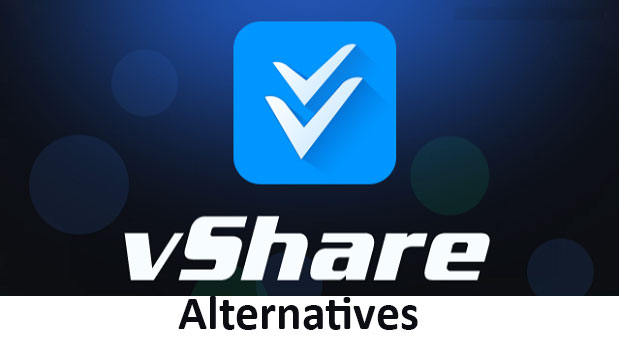 The vShare alternatives don't necessarily mean that the vShare app has any flaws in it, but it is only about having options to choose from. If you happen to don't like vShare for any reason, it is good to have a few vShare alternatives around. Alternatives also force the app developers to innovate and make their collection better because of the competition. Here I have listed the best vShare Alternative for iOS users. Do let us know if we have missed any good vShare alternatives in the comments.
HipStore
HipStore is one of the most popular third-party app stores for iOS devices. The HipStore is an excellent alternative to vShare. A Taiwanese developer has developed the HitStore, and it allows you to download free paid apps on your iOS device without the need for Apple ID or jailbreaking the iPhone and iPad. The store has thousands of cracked and free paid apps that you can install on your iOS device. The app has a user-friendly interface. Hence the navigation is not a problem.
We have written a detailed guide on how to install HipStore for iOS. But, if you are in a hurry, follow the steps given below.
Open the Safari web browser on your iPhone and visit this link to download EMU4iOS.
After installing EM4iOS, you can download and install HiPStore from here.
AppCake
AppCake is yet another popular app repository for the iOS device and is an excellent alternative to the vShare. The AppCake app works on any iOS device without the need for jailbreak or Apple ID. It also offers the most extensive collection of apps in its store. You can try any of the paid apps before purchasing from the Apple Appstore. The AppCake apps store is updated every day, and new apps are added to the collection.
KuaiYong
If you haven't heard of this vShare alternative called KuaiYong, then it is a Chinese app store for the iOS running devices. It allows you to download and install free apps without jailbreaking the device. You can also use it as a media manager and move files, movies, and music on your Apple iPhone and iPad.
The KuaiYong has its app repository, from where you can search and download any number of apps without Apple ID. It works on Apple iOS version 9-10-11. It also comes with a built-in file downloader that allows the users to manage the downloaded files with ease.
AppAddict
The AppAddict is yet another third-party app store for iOS running devices such as iPhone, iPad, and iPod. AppAddict for iOS lets the users download and install free paid apps and cracked apps without having a jailbroken device. It makes sense that some of the users don't want to jailbreak their device just to keep their phone's warranty in good shape. What makes Appaddict better than other vShare alternatives, is that the AppAddict store is updated regularly making it the most stable third-party option for iOS users.
iFunBox
The iFunBox is an app management tool for iOS devices. You can use it on iPhone, iPad, and iPod and also on your Mac and Windows running PCs. The iFunBox is an excellent alternative to vShare as it allows you to download IPA packages with in-house distribution available with the Apple developer entertainment program. By using the iFunBox app, you can get the.IPA file and install your favorite games and apps. The PC client helps you to transfer files between the iOS device and the computer. You can also use the phone's storage like a USB disk and take a backup of the phone's data.
TutuApp
TutuApp is one of the most popular vShare alternatives. The TutuApp for iOS doesn't require a jailbroken device and works on iPhone, iPad, and iPod. It also has an inbuilt cache cleaner feature, so that you don't need to install a third-party cache cleaner. The TutuApp lets you install third-party apps from its app store without the need for Apple ID or jailbroken iOS device. A unique feature of TutuApp is that the developer claims to offer better downloading speed of apps and games than the official Apple Appstore.
AppChina
AppChina is a relatively new alternative to the vShare. As the name suggests, AppChina is developed by a Chinese developer and most of the apps are in Chinese. The navigation is in English, so that will be helpful for navigating between the apps. The AppChina can be installed directly from the official website ios.Appchina.com. However, after the installation, you need to make the app trusted to make it work. You can make any untrusted app as trusted by navigating to:
Settings > General > Profile and Device Management and find the AppChina profile. Tap on trusted to make the app trusted.