LocaliAPStore is a third-party app for an iOS device which means you cannot download the app from the Apple App Store. What the app does is, it allows the iOS users to bypass the payment page for the apps that are One-time purchases like games etc. It allows you to skip the payment page and takes you to the installation page. Here is how to download LocaliAPStore on iOS for iPhone and iPad.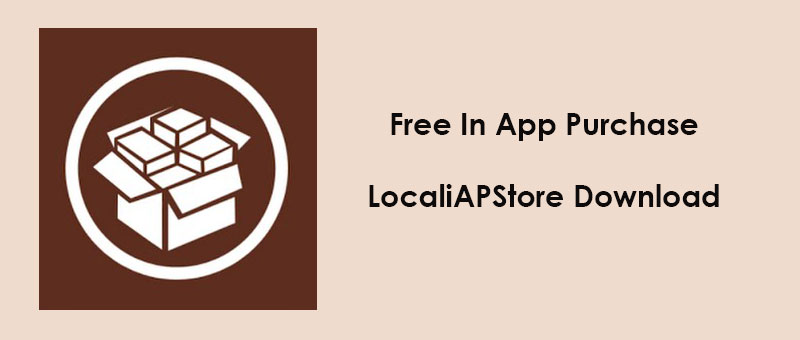 LocaliAPStore is an alternative to iAP Free and iAP Cracker. These apps allow you to download paid apps for free bypassing the payment page on App Store. This is a workaround for those who want to try an app before making the purchase.
LocaliAPStore Features
It allows the users to bypass the payment page and download any app from the App Store.
Works on only One-time payment apps.
It does not work on Monthly subscription-based apps.
The app runs in the background so no need to open the app each time you want to download an app.
Before we proceed with the installation of the LocaliAPStore app for iOS 13 devices, know that the iOS device should be jailbroken. This method does not work on non-jailbroken iOS devices. If you don't have a Jailbroken device then try the RedSnow tool to make it work.
There are two ways to install LocaliAPStore for iOS. Follow the first method and then move to the second method if needed.
Method 1 – Get LocaliAPStore from Cydia
On your jailbroken iOS device, launch Cydia from the screen.
When inside Cydia, search for the LocaliAPstore app or LocaliAPStore iOS 13.
From the search results, install the first result that says LocaliAPstore.
Method 2 – Add Cydia Resource to Install LocaliAPStore
This method involves adding any of the Cydia resources. Here is how to do it.
Open Cydia on your iPhone/ iPad.
Tap Manage and tap on Edit.
In the sources tab, tap on Add.
Add the following repository source in the field. http://repo.biteyourapple.net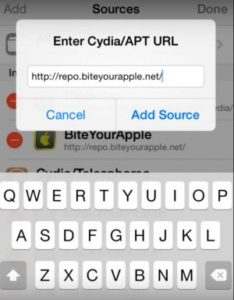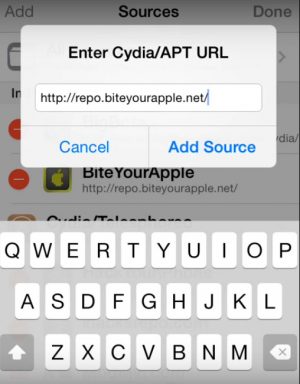 Tap on Add Source to install repository files. Next, search for LocaliAPStore iOS or similar to find the app and install it.
List of Apps Supported by LocaliAPStore for iOS
Note: There are more games that you can download using LocaliAPStore apart from the apps and games in the list below.
4 Pics 1 Word
AAA Word Mania – Guess the Word
Adobe Photoshop Express
Agent Dash
Akinator
Arrow
Arrow Ambush
Angry Bird
Angry Bird Rio
Athletics Summer Sports 2
Best Friends
Big Oil
Billionaire
Billionaire
Bitcoin Billionaire
Block Hexa
Blood and Glory 1
Blood and Glory 2
Bow Masters
Bridge Construction Simulator 3D
Build Away
Burger shop (no ads)
Can You Escape 2
Candy Crush Jelly Saga
Candy Crush Original
Car Rage
Clash-Heroes Slots
Clicker Heroes
Clicker – Tap your own city
Coin Dozer
Coin Dozer
Coin Dozer Original
Colour Switch
Cooking Fever
Crazy Drillers
Crossword Quiz
Crossy Road
Cube Skip
Dino Water World
Disney Crossy Roads
Disney Emoji Blitz
Doodle Jump
Dots & Co
Dragon Village 2
Dream League Soccer 16
Dumb Ways to Die 2
Egg Inc
Emergency Surgery Simulator
FIE Swordplay
Farm Away
Farm Away
Farm Hero Saga
Flick Soccer 2017
Flow
Flow
Football Clicker
Four In a Row
Fruit Ninja
Fruit Ninja HD
Genies & Gems
Goat Quest
Guess the Colour Color Mania
Gummy Drop
GyroSphere
Head Soccer
Highway Rider
Hill Climb Racing
Hungry Shark Evolution
Hungry Shark World
Hyper Swiper
Idle Town
Jetpack Joyride
Jigsaw Puzzle
Juice Jam
Jurassic World
Just Rolling
Ketchapp Basketball
Ketchapp Summer Sports
Line Runner
LineDefence
Make it Rain
Mekorama
Merged!
Micro- Gold Masters
Money Tree
Money Tree
Monster Mania
My Boo
My Boo Town
NFL Game Pass
Ninja Fishing
Panda Pop
Panic Drop
Particular
Perfect Fit
Piano Tiles 1
Piano Tiles 2
Pick Up Sticks
Pics 1 Word
Pixel Grams
Pou
Prize Claw
Prize Claw 2
Rail Rush
Real Boxing 2! Rocky!
Real Racing 3
Risky Roads
Rocket Cars
Run Sackboy
SLOTS! Vip Deluxe Slot Machines
Slash Mobs
Sling Kong
Smash Hit
Soccer Star 2016
Sports Hero
Stick Hero
Subway Surfers
Sudoku
Sugar Smash
Tasty Steps
Taxi Sim 2016
Teenage Mutant Ninja Turtles
Temple Run
Temple Run
Temple Run
Temple Run 1
The Line Zen
The Tower
Tiny Tower
Township
Traffic Rider
Traffic Rider
Truck Parking Simulator 2
Turbo Dismount
Tweechi
Virtual Begger
WWE Immortals
Whats the Difference Spot The Difference Game
WordTrek
Wordalot
ZigZag
Zombie Highway
Zombie Highway 1
Zombie Highway 2