Windows Defender is the default malware protection tool that comes pre-installed in Windows 10. Windows defender may not be an as sophisticated tool as of any other third-party security tools, but it gets the job done and keeps your PC protected.
However, at times the users may face problem while trying to turn on Windows Defender on their Windows 10 computer.
While trying to turn on Windows Defender users may get an error: Windows Defender has been turned off, and it isn't monitoring your computer.
In this article, I have listed all the possible fixes to troubleshoot unable to turn on Windows Defender problem.
Fix 1: Uninstall Third-party Antivirus
The most common reason why the Windows Defender may not turn on is that you have a third-party antivirus installed on your PC.
Windows OS is designed to detect the presence of any multiple security software and if present, Windows Defender gets disabled on your PC. Having multiple security software running on a PC simultaneously can create issues and may also slow down your PC.
If you have a third-party antivirus installed on your PC, you have to uninstall it completely before you can turn on Windows Defender.
Press the Windows Key +R, type control panel and hit enter to open Control Panel.
Click  Programs and select Programs and Features.
Check for any third-party antivirus tool or security scanner installed on your PC and uninstall it.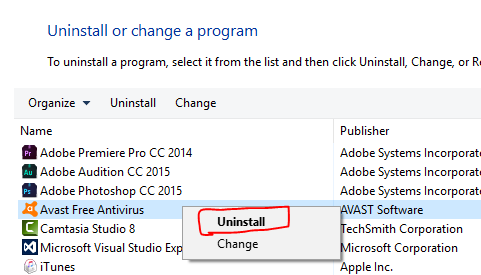 After uninstalling the third-party antivirus, restart your PC and then try to turn on Windows Defender and see if that fixes the problem.
Fix 2: Completely Remove Partial Uninstallation
If you are still unable to turn on Windows Defender it can be because of the partial uninstallation of antivirus files. When you uninstall any antivirus tool, your PC may not remove every file related to the tool completely and this may cause a problem when you try to turn on Windows Defender.
Thankfully, the majority of the third-party antivirus maker also provide cleaning tools for their respective tools. I have listed a few commonly used cleaning tools below. Do comment if you need any other tool, I shall add them to the list.
Kaspersky Product Removal Tool
Download and run the appropriate tool and it will remove any of the remaining files and completely uninstall the third-party antivirus from your PC.
Fix 3: Enable Windows Defender using cmd
If you are facing the problem while trying to turn on Windows Defender from the Windows Defender screen then try to enable using the command prompt.
Right-click on Start and select Command Prompt (Admin).
In the command prompt type the following command and hit enter.
sc start WinDefend enable
Now check your system tray and Windows defender must have been enabled.
Fix 4: Set Windows Defender Services to Automatic
You can Turn on Windows Defender by setting Windows Defender services to automatic in Microsoft Management Console or Microsoft Services.
Press Windows Key + R.
Type services.msc and hit enter.
Now scroll down and find Windows Defender Services.
Right-click on Windows Defender Services and select Properties.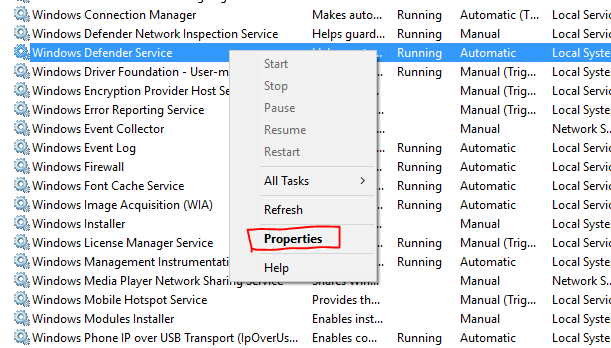 In properties, set the Startup type to "Automatic".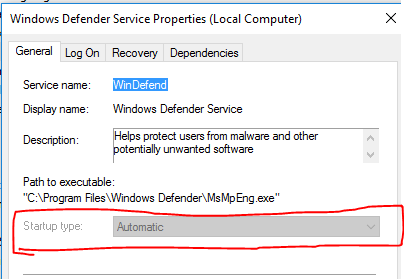 Click Apply, click OK.
Right-click again on Windows Defender services and select Start.
Press Windows Key + Q, search Windows Defender, open it.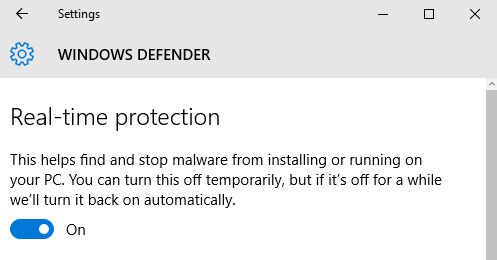 Click Settings and make sure that "Real-time Protection" is turned On.
Fix 5: Check Incorrect Date and Time
You may not be able to turn on Windows Defender if you have set incorrect date and time on your PC. The incorrect time and date can also cause a problem while using a web browser.
Click data and time settings that you can find at the bottom right of the taskbar.
Make sure you have set the time and date correct.
Also, set Time Zone to automatic.
Other Fixes to Turn on Windows Defender
Update Windows: If you have any pending Windows update available for your PC, then download and install the update. The update process may take a few minutes to a few hours depending on your internet speed and PC hardware.
After the installation is complete try to turn on Windows Defender and see if that helps.
Update Windows Defender: Once you have updated Windows, make sure that you also update Windows Defender if a new version of the tool is available for download.
Use System Restore Point: Windows creates System Restore point whenever you make a major change to your PC. So, if the Windows Defender stopped working after you installed something or uninstalling a software then you can try to use the recently created system restore point to restore the PC to the state when Windows Defender was working fine.
Follow this article titled how to restore PC using system restore point. Jump to the last part of the linked article for more info.