Shared office spaces are becoming increasingly popular among freelancers, start-ups, and large companies alike. Offering a flexible and affordable alternative to the traditional office environment, shared office spaces provide a variety of benefits that can help businesses grow and succeed.
The most obvious benefit of renting shared office space is cost savings. By sharing an office with other companies, you can save on rent, utilities, furniture, and more. This makes it especially attractive for startups who may not have the budget to invest in their own dedicated space. Additionally, many shared offices offer amenities such as Wi-Fi access and conference rooms that are included in the monthly fee. This can help keep costs down while still providing all the necessary resources for your business operations.
Shared offices also offer increased flexibility for businesses that need to scale up or down quickly depending on their needs. Instead of committing to a long-term lease agreement or spending money on renovations for an existing space, businesses can simply adjust their workspace size within the shared facility when necessary. This is ideal for those who need an extra room during times of growth but don't want to be burdened with unused space during slower periods when they could be saving money instead.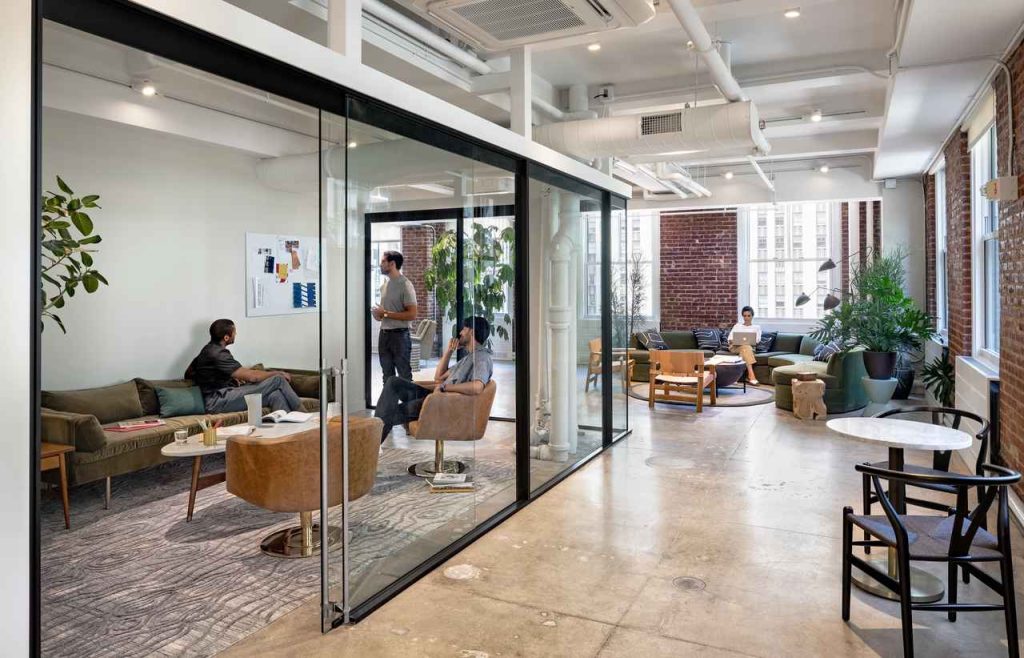 Types of Shared Office Spaces
Shared office spaces are a great option for businesses and individuals who are looking for flexible, cost-effective workspaces. There are several types of shared office spaces, including private offices and coworking spaces. Each type has its own unique benefits, so it is important to consider the pros and cons of each before making a decision. 
Private offices provide individuals or businesses with their own dedicated space within a larger shared office environment. These private offices typically come with desks, chairs, and other necessary equipment as well as access to common areas such as meeting rooms, kitchens, and bathrooms. They offer more privacy than coworking spaces because they allow people to work without interruption from others in the same workspace. Additionally, these private workspaces often come at an additional cost, which can make them appealing if you're looking for more control over your budget.
Coworking spaces are another popular option when it comes to shared office environments. Unlike private offices which involve renting out an entire space or suite of rooms on your own terms, coworking involves sharing the space with other professionals in the same industry who have similar goals and values. The benefit of this type of setup is that you can collaborate with like-minded professionals while still enjoying some level of privacy from others in the same workspace.
Also Read: 5 Great Apps Everyone Will Find Helpful Right Now
Factors to Consider Before Renting a Shared Office Space
Shared office spaces have become more popular than ever before, as they are a great way to save money and increase collaboration. However, before you rent a shared office space, there are some important factors that you need to consider. Here we take a look at the most important factors when considering renting a shared office space:
Location: Location is one of the most important things to consider when renting any type of office or workspace. Make sure that the location is accessible and convenient for both yourself and your clients. It should also be close to public transportation options such as bus stops and train stations so that it's easy for everyone involved to get to work quickly. 
Cost: Cost is another key factor when considering whether or not to rent a shared office space. You should compare different prices between different providers in order to find the best deal for your needs. Don't forget about hidden costs such as parking fees, internet access charges, etc., which can add up quickly if you don't take them into consideration before signing on the dotted line! 
Flexibility: Flexibility is essential in any kind of workspace environment, particularly if you plan on sharing it with other people or businesses from time to time.
How to Find the Right Shared Office Space for You?
Are you looking for a new shared office space but unsure of where to start? Finding the right shared office space for you can be a daunting process, with so many options available. To make the search easier, here are some tips on how to find the right office space for you.
Research Available Options:

Before making any decisions about shared office space, take some time to research what is available in your area and online. Consider factors such as location, price range, and amenities offered by each workspace provider before narrowing down your choices. Make sure to read customer reviews and ask any questions that you may have before making a final decision.

Consider Your Needs:

Once you've narrowed down your options based on research, it's important that you consider your own needs when selecting an office space provider. Think about what type of environment would best suit your business goals – whether it's an open plan design or something more formal – as well as other factors such as access to meeting rooms or video conferencing capabilities if needed. 
Budget:

After taking into account all of the above factors, it is important that you assess what budget constraints may be in place when choosing an office space provider.
Also Read: What Small and Midsize Businesses Need to Know About Network Attached Storage?
Conclusion
Renting shared office space is a great option for those looking for an affordable, flexible workspace. It offers many benefits such as cost savings, convenience, and access to a variety of amenities. It can also provide a community of like-minded individuals to work with and network with. If you are looking for an alternative to traditional office spaces, consider renting shared office space today.