iCloud is a cool cloud deployment. It lets you keep your Apple devices' data synchronized and placed in an online storage space. You can keep all the iPhone, Mac, iPad and even Apple TV data synchronized through it magically. iCloud could be installed on Windows too. It not only allows the users to keep the backup of their apps and data but does a lot more than that. If you are a newbie to iCloud and mistaking it for Google Drive, OneDrive or DropBox, you are fairly underestimating it.
In this starter guide on iCloud, we will take you through all the details, features, capabilities of Apple's this free service (well, up to 5GB at least). And if you know it all, you can skip these sections and start reading from how to use iCloud.
What is iCloud?
In easiest terms, it is Apple's free data storage and synchronization service which allow you to store data online and access it whenever you want. It manages the copy of your data from multiple devices and keeps everything fine-tuned.
From contacts to notes and calendar – it keeps synchronized everything synchronized for your quick access. To your surprise, it lets the users access their home system's data from any remote destination. A picture, you just clicked using your iPhone, will immediately available for your iPad, Mac, and iPad Mini and PC.
iCloud arrived in 2011 and has matured a lot in the meantime. Apple has dedicated servers, hardware and operating systems to manage your data and hence, it's as efficient in providing you the cloud services as needed.
Compatibility
If you check out the system requirements for iCloud, you will find that it is compatible with a very large range of devices. The application can be accessed from Mac, iPad, iPhone, iPod touch, Apple TV, Windows 7 and Windows 10 PCs. However, the mobile-related services like Back to My Mac, restore, backup, find my iPhone, etc. will not be available for the Windows users. You can also access your data through any standard browser.
How to use iCloud?
You only need:
A compatible Device (with update software installed on it) or browser
Internet Connection
An Apple ID:
It could be created by visiting the official website from here. Click on 'create yours now' and fill the form, which will look like:
Setting up iCloud for your device
That's pretty simple to setup iCloud for your devices. The procedure differs from device to device:
For Apple Users
Check if you are using the latest version of iOS/OS X or not.

If not, update it. Otherwise, go to system preferences and Turn iCloud 'on'.

Enter your Apple ID and choose the services as required.

Enable automatic downloads for iTunes so that your purchases stay synchronized too.
For Windows Users
Download the

iCloud software for Windows

.

Log in (or Sign up using the link shared in 'compatibility' section) with your Apple ID.

Turn on the synchronization for it.

Enable the automatic downloading of data.
Is iCloud Expensive?
Not at all!
You can store 5GB data for free. If you want to utilize the full potential of iCloud, you may upgrade your package and move to a paid subscription. The Apple cloud storage, opposite to your imagination, is very cost-convenient. The charges (while writing this article) are:
5 GB – No cost

50 GB – $0.99 or

₹

75 (per month)

200 GB – $2.99 or

₹

220 (per month)

2 TB – $9.99 or

₹

750 (per month)
Accessing iCloud through Browser – iCloud.com
If you've left all your devices at home and still want to access your Cloud data, Apple's cloud service lets you do it with ease. You'll just have to log in to your Apple Account.
iCloud Apps – Life made simpler
iCloud is not for data only; it allows flawless note keeping, task management, and document creation services too. Here are a few apps, which comes to rescue you from hectic and unorganized life:
Saving your contacts, organizing them into groups, and setting reminders for the contacts can be done easily through 'Contacts'. You can add the picture, names, mobile phone details, website details, office address, home address and notes to every contact.
Apple's note-keeping services allow you to organize your task list online. As you can open these notes from everywhere, it could be used as a diary too.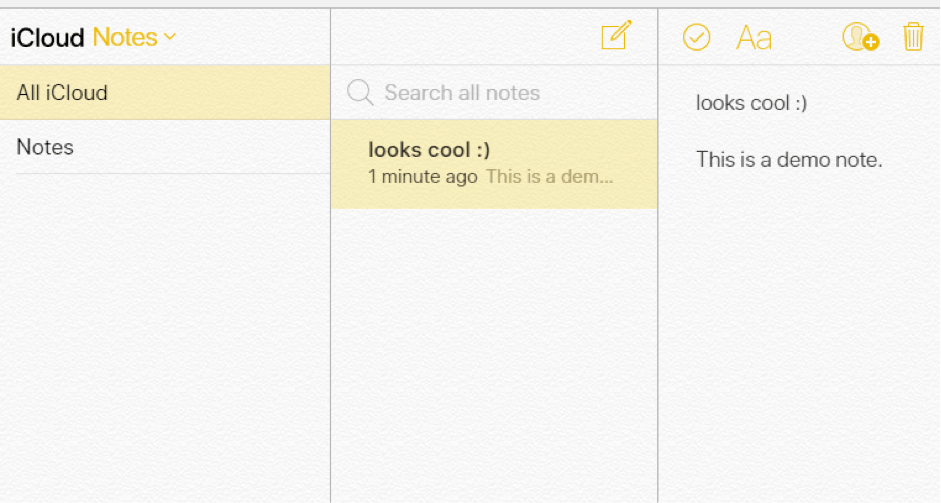 To create online reports and documents, 'Pages' is a perfect app. It has multiple beautiful and nicely-formatted templates too. You can use them to create decent documents in the least time.
All excel-related tasks can be performed using the 'Numbers' app, present in iCloud. There are numerous finance & task-related formats to start with. Pick one and get started!
Using 'Keynotes', you can create awesome presentations online. Again, it offers a great collection of templates which can make your task easy. Be it office seminar or education slide slow, you can do it all with iCloud's Keynotes.
The documents can be uploaded to this space so that you can open or download them from anywhere. Files created through its online apps like 'Numbers', 'Sheets', 'keynotes', etc. are also saved to your drive for fast access. Users can save 5GB data from free, after which you have to move to paid subscription. The document and folders can be shared directly from the Drive.
What are the capabilities of iCloud?
Other than letting you use amazing in-built online applications, iCloud provides commendable services, such as:

Synchronization and Back up Services
As you already know, the major application of iCloud is synchronizing the data from multiple devices and keeping it in an online space securely. In case your device misbehaves, gets damaged or is stolen, you will be able to back up the whole data from iCloud.
Online Photo Library and Stream Services
By turning 'on' the Photo library from your Apple devices, you can keep your images and videos synchronized to the cloud. Later on, this graphical data could be streamed to any of the device, which has iCloud set up. It fetches every snap or shoots from your device just after it's captured, like magic!
If you lose your precious mobile, opening the online website of Apple's Cloud service and using 'Find My iPhone' could lend you the helping hand. Using this service, you can easily track the location of your iPhone.
If you want, Apple TV data can be kept online too.
iTunes and iCloud Music Library
The cloud service is quite efficient at purchase management and keeps track of the books and iTunes music you purchase. This whole data is managed in an online library so that you can restore it to other devices too.
To save you from the mind-boggling task of remembering the passwords, Keychain is a life-saving service. You can use it to store the passwords for your multiple accounts, credit card details, and other such data.
'Back to My Mac' also you logging in to your Apple device and use its data from anywhere in the world.
This service lets you share files, photos, apps, movies, songs, and more with your family members and friends. You can also approve or disapprove the purchase made by your child, even if they have placed the order. This can be achieved by using the family setup option and You'll get notifications on the purchases made by your children; cool, no?
If your friends or kids or family members have allowed you to check their location, you can always find out where they are in this endless world. So, you can always catch up with them when needed.
Summing it up – Is iCloud Good for You?
iCloud comes enabled with dozens of features and advantages, as you must have understood after reading this ultimate iCloud Guide for the beginners and everyone else. Be it the free account or paid cloud service, be it for personal use or professional requirement, Apple is a perfect choice for all your online storage needs as per our scrutiny. So you can always go for it.
Got queries related to iCloud and its services? Leave the questions in the comment box so that we can resolve them.