Download iOSEmus App and Install on iOS 11: We are all crazy for games and have been playing them from our childhood. We love to play games on our iPhone or iPad. iOS App Store is full of a lot of useful utilities as well as games. However, if you want something out of the box, you need to jailbreak your iPhone.
As you would be familiar that jailbreak solution is easily available these days. But if you are an iOS user like most, you would want to install premium apps and tweaks on their iPhone/iPad without Jailbreaking. This is where iOSEmus comes into play.
In this article, we will give you a step by step tutorial to download and Install iOS Emulator on your iPhone or iPad. For those who don't know what iOSEmus is, let's take a brief look at its intro.
What is iOSEmus?
iOSEmus is an internet-based program that makes it possible for you to install fantastic games and emulators like NDS4iOS, DownCloud, PPSSPP, f.lux, PlayBox HD and vShare without jailbreaking your iPhone and iPad. Apart from games, it includes some very popular emulators like GBA4iOS in its inventory. For all such things, if you love emulators on iPhone, you will definitely love iOSEmus.
Download and Install iOSEmus App on iOS  for iPad, iPhone 
You can download and install iOSEmus without jailbreaking your device and you won't even need to connect it to your PC or Laptop. You just need an internet connection and an Apple device running on iOS 10 or above. Follow these steps carefully to download and install this app no jailbreak on iOS 10 and above.
The first step is to launch the Safari Browser on your device.

Next, navigate to iosem.us. Now you have to scroll down and click on the Cydia Alternative.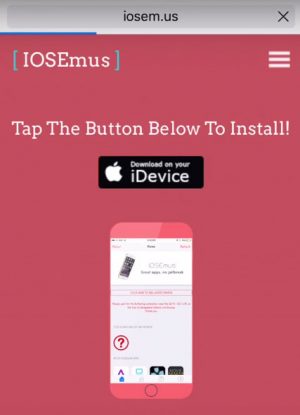 There you shall see the iOSEmus; then you have to tap on install. While you click on the install option, you shall see a profile window which will be opened. Another "Install" button will be present on the top right. Just tap on the top right corner install button.
After you tap on the button, you shall get a warning message that says "Profile is not Signed Up". This pop-up message is not really important; you can ignore that and then again tap on the "Install" button present in a top right corner. Now you can just watch the installation process of iOSEmus automatically taking place.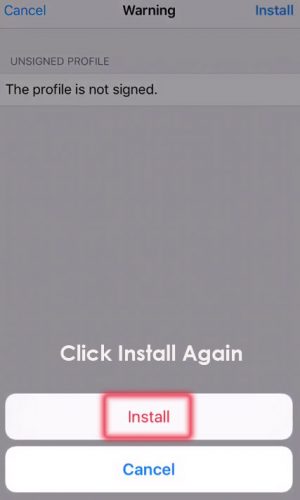 Depending on your internet connectivity, it might take up a few minutes; wait patiently. Once the installation process is complete, you can test the app by going to the home screen and then opening the app.
Also Read: Nintendo DS emulator iNDS on iOS 
That's it, guys! You can now use the iOS Emulator iOS application for iOS 11 without jailbreaking your device. Just open the app and install an unlimited number of applications, games, and emulators. Hope you like this tutorial. If you have any questions, feel free to ask.