Pinning the shortcuts of any settings such as Control Panel or Network settings to the start Menu comes in handy when you really don't want to dig through all the initial steps to reach your final settings section. For example, if I want to open my Cellular Settings in Windows 10, first I have to open all Settings, later click on Network and account and then go to Cellular tab, just to connect my network dongle to the internet.
The new Windows 10 has some really useful tips and tricks up it sleeves which are not known to many Windows 10 users. However, when a user finds out about a new tip in the Windows 10, they usually share it on social media so that others could get benefited from it. This only happens when the user is active in any technology forums, social media or has his/ her own blog.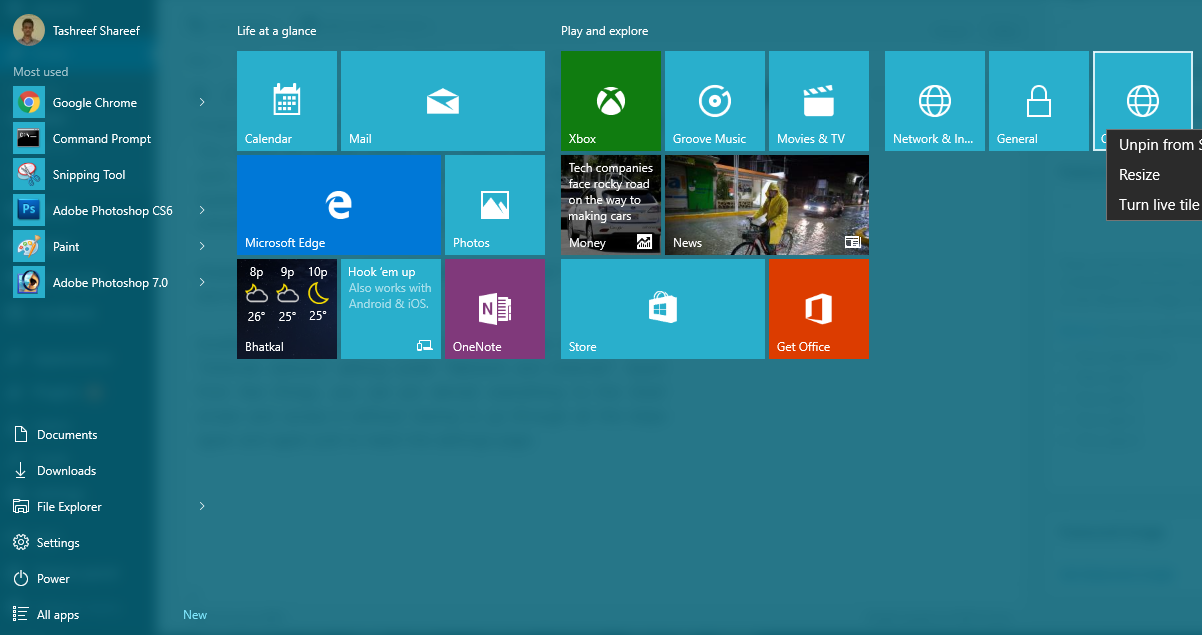 A similar tip or should  I say a trick came into my notice while surfing the Reddit's Windows 10 forum. It was about pinning anything to your Windows 10 Start Menu.
You can pin Devices, Network and Internet, Personalization, Accounts and almost any settings from your Windows 10  PC to your start Menu with a simple click. You can check out the list of things or settings that you can pin to Start Menu from the list given below.
But, before you take a look at the list of settings you can pin to Start Menu, let me show you how to do it.
Pin Any Settings to the Start Menu / Menu in Windows 10
Begin with opening your Start Menu or Menu just to make sure that you don't have the item already pinned to your Start Menu by someone else, if not by you.
Click on Start Menu and see if you have any Settings pinned to it.
Now go to All Settings section. To do this, click on Start button and then click on Settings button to open All settings.
Alternatively, you can also access All settings by clicking on Action Center from the bottom right corner of your taskbar and click on All Settings button.
Once you are in the Settings section, open the Setting that you would like to Pin to Start Menu.
Here I will be trying to pin Cellular settings under Network and Internet settings to my Windows 10 Start Menu.
So, from the Settings, click on Network and Internet.
From the left side of the Network and Internet window, find the Cellular tab.
Right-click on the Cellular Tab and select Pin to Start option appeared on your Menu.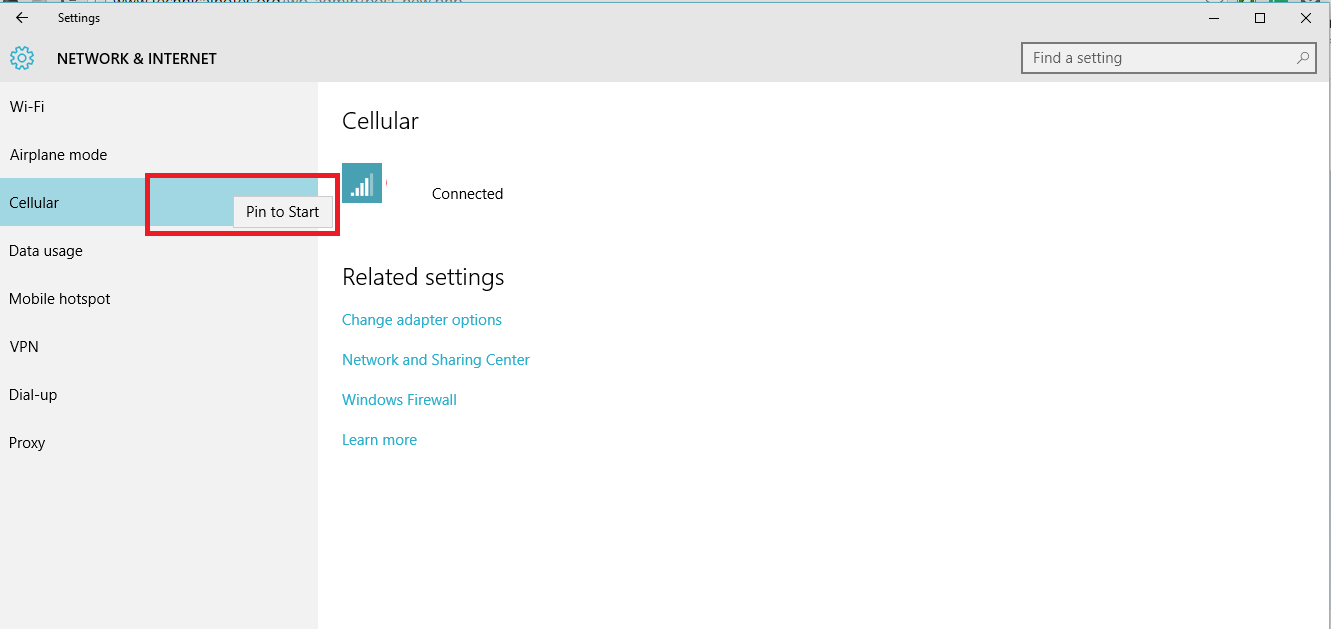 This would pin the Cellular Settings tab to your Start Menu. To view it, open Start Menu by clicking on the Start button and you should see your newly pinned Cellular setting in the Start Menu.
Unpin Settings from Start Menu
Now if you want to unpin any setting from the Start Menu, then you can do it either from your All settings section or simply open Start Menu, right-click on any pinned Setting that you would like to unpin and select "Unpin from Start". This would remove the pinned setting from the Start Menu.
What can you Pin to Start Menu?
Well, you can pin almost anything to the Windows 10 Start Menu. You can pin folders from your hard drive to Start Menu; you can pin any program shortcut to the start, and you can also pin application shortcuts from your desktop to Start.
What you cannot Pin to Start Menu?
There are few things which you cannot pin to start Menu in Windows 10. The first thing is a batch file (.bat). You cannot pin a file with .bat extension to the start Menu.
You cannot pin certain settings from Control panel to the start Menu, such as a full set of settings from the Control Panel including System and Security, Network and Internet and almost everything from the main menu of Control Panel.
However, you can pin "Security and Maintenance" under "System and Security" option to the Start Menu. You can pin pretty much everything, but only after opening the main setting section.
Another thing you won't be able to pin to the start Menu is "Internet Options" setting under "Network and Internet". Apart from a few things listed above, you can pin almost everything to the Start Menu and access it without having to go through all the steps again and again just to reach the settings page.