We all live in a Social Media drove and judgmental world, where people will not frown upon you if you are not educated or poor, but they will surely frown upon you if you are not active on social networking apps like Instagram, Facebook, Twitter etc.
Instagram is one of the most popular social networking applications, which allow users to post photos and videos right from their phones. You may follow your friends & other users and receive their photo, video sharing updates.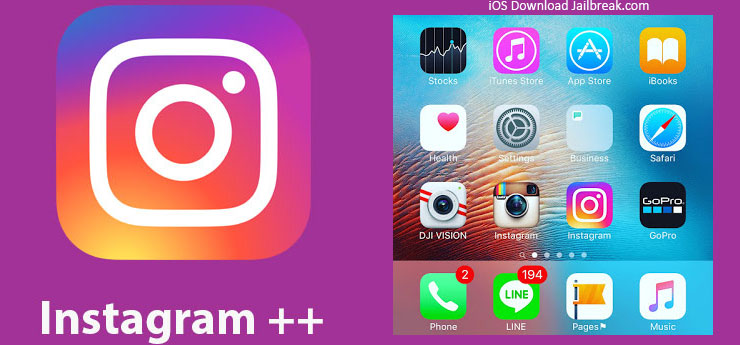 About Instagram++                                               
Instagram++ app is basically a tweaked version of Official Instagram App. This tweaked version of Instagram features lot more power over video/photo downloads and boasts a brand new improved interface.
Enhancements in Instagram++ Download
Appearance
Most important and tempting add-on is that now you can spoof your count of Instagram Followers.
Full-screen view support added.
Full timestamps for all posts. You may even customize its format.
Hide Bio information from your profile.
Hide Comments section when you switch to a full view.
Media Related Improvements
See High-Quality photos right in thumbnails.
Frozen zoom with a long hold on an image.
See caption of an image; even if the image is in zoom state.
Sharing and Downloads
Download Photos / Videos: Most awaited add-on in this version of Instagram++ is that now you can save your favorite videos and photos from app directly to your Camera Roll.
Shortcut for Sharing: In case you want to share or download a media, you just have to double tap on its thumbnail.
Re-gram your photos and videos.
Sharing media is now directly visible within the native sharing list of iOS.
Note: Instagram++ Can also Download from TutuApp and iOSEmus App
Download and Install Instagram++ App on iOS 11/ 10 (IPA File Link)
1. Uninstall the original Instagram app if you already have that on your current iOS device.
2. After uninstallation, you need to now sideload the IPA file of Instagram++ in your device. There are various links from where you may download the IPA file or install the app on your iOS device:
For Link 1 – Click Here  and  Link 2 – Click Here
You may also use Xcode or Cydia Impactor to download IPA files on your iOS devices.
3. Once you open one of the web pages from above links, Tap on Download IPA and then click on Install.
4. Once the Instagram++ app has been downloaded on your iOS device, you have to authorize the developer profiles for Instagram++ app. Go to Settings > General > Profiles or Device Management on your iOS device and Click on Enterprise app profile.
5. Double tap the Instagram++ developer profile from that list, and tap again on Trust. That's it. Your Instagram++ app is now ready for use.
Conclusion
Social Media is a blessing in disguise, which gives you the power as well as takes away your freedom also. But that's the way the world is moving on, and you have to pace up with it or you will be left behind from the herd.
Now, since you have the download Instagram++ app right in your hand, show your friends the power of technology.
Keep Sharing and have fun.