Your Anti-Virus comes with a built-in feature to filter the SSL protocols for better safety. So, whenever you visit a HTTPS website using browsers like Firefox and Chrome, your Anti-Virus will try to filter them to create a secure connection. This is when you can face the "Secure connection failed" error message in Firefox and Chrome. Today, in this post, I will show you how to fix secure connection failed error message.
The error secure connection failed, only appear when you try to open any HTTPS website such as Gmail or Twitter or your internet banking site.
Now the error Secure connection failed does not appear because there is a problem with your Web browser. As the error can occur on any browser be it Firefox or Chrome or Edge, the culprit is something else.
In such cases even uninstalling and installing your web browser won't help. So, don't try doing it as a workaround.
The culprit here seems to be your Anti-Virus. For me, I am running the ESET Nod32 Anti-Virus, and the problem seems to be because of the Anti-Virus's SSL Filtering Protocol feature.
So, if you are using the ESET Nod32 and are facing the Secure connection failed error, it is time to tweak some settings to get rid of this problem.  So, here is how to fix this problem in Firefox and Chrome.
Note: Even though I have mentioned Google Chrome and Firefox, the problem can occur on any web browser. Since it is an Anti-Virus program related issue, you can follow the steps to resolve this issue on any browser.
Why this Happens?
The only reason could be your Anti-Virus program not being able to import the root certificates due to some technical glitch. When the program cannot import root certificates, the website having secure protocols won't be able to load on any web browser, because your Anti-virus will be blocking them. Ultimately showing the "Secure connection failed" error.
The Fix – Reset SSL Protocol Filtering
Fortunately, the fix is more simple than the error makes it appear to be. All you have to do is, reset the SSL protocol filtering feature in your Anti-Virus.
Note: These instructions are for ESET Nod32 Anti-Virus. If you are running any other Anti-Virus program, find the settings to turn off / on SSL protocol feature.
Note: I have also made a video showing how to fix the "Secure connection failed" error for easier understanding. You can skip the reading process and watch it by scrolling down to the end of this article.
Note: If you are facing the secure connection failed error on a non-HTTPS website, then you can try the fix it 2 in case the fix 1 doesn't work.
Step 1: Begin by launching ESET NOD32 Anti-Virus program. If you are using it, you can open it from your system tray.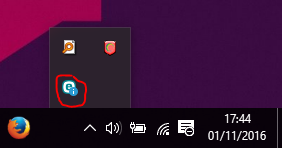 From the left pane, click and go to Setup. And then click on Internet Protection to expand the section.
If you are already in the Internet Protection section, then skip it.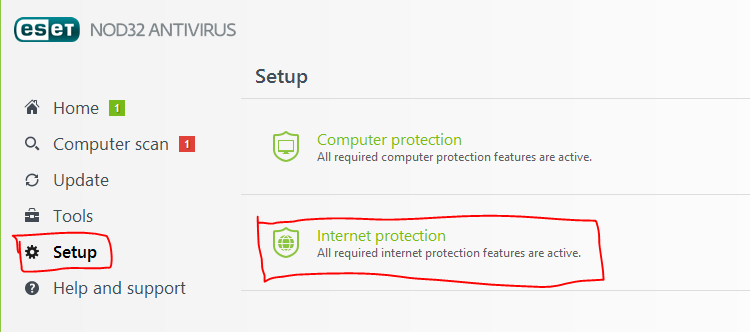 Click the Settings icon (Gear icon) beside Web Access Protection. It will open Advanced Setup window.

From the left-side pane, click Web and Email.
Next, expand SSL/TLS section by clicking on it.
Now toggle the slider beside "Enable SSL/TLS Protocol Filtering" to disable it. If all the options get grayed out, that means you have disabled it. Click OK to save the settings.
Step 2: Now you have to enable the SSL/TLS Protocol filtering feature again. So go to Advanced setup by navigating to Setup >> Internet Protection >> Web Access Protection (Click the Gear Icon) >> Web and Email.

Now turn on "Enable SSL?TLS Protocol filtering" feature by sliding the toggle switch. Click OK button to save changes.
Now open Firefox or Google Chrome and try visiting any secure site to see if the secure connection failed error is resolved.
Fix 2: Fix Secure Connection Failed Error on Non-HTTPS Website
Now if you face the secure connection failed error while using a non-HTTPS website, then try this.
Open Mozilla Firefox. In the search bar, type  about:config and hit enter.

You will see "This might void your warranty" page. Click "I accept Risk" to proceed.
In the search bar, type security.ssl.enable_ocsp_stapling And hit enter. It will look for the entered query and return the result.

Under the value tab, double click on security.ssl.enable_ocsp_stapling and you will see that the value has turned to False from True.

Watch – Fix Secure Connection Failed Error