Hotspot Shield is one of the best VPN software you can install on your PC and Mac. While the Hotspot Shield itself works excellently on PC and Mac, at times, you may end up with Something Went Wrong Error while using it. Here is how to fix hotspot shield something went wrong error in Windows 10, 8.1,7 and Mac running MacOS Sierra, Yosemite, etc.
The Hotspot Shield something went wrong error suddenly started showing when I restarted my PC. When I tried to run Hotspot Shield, it was only showing "Something Went Wrong, we are trying to fix the problem. It might take few seconds".
Even after waiting for a few minutes, the problem did not go away, and the Hotspot Shield did not start. It was stuck to the same error message stating "something went wrong."
Fortunately, after tinkering for few minutes here and there, finally, I resolved the error and fixed hotspot shield something went wrong error.
If you are facing similar kind of error with hotspot shield here is what you can do to fix it.
Fix Hotspot Shield Something Went Wrong Error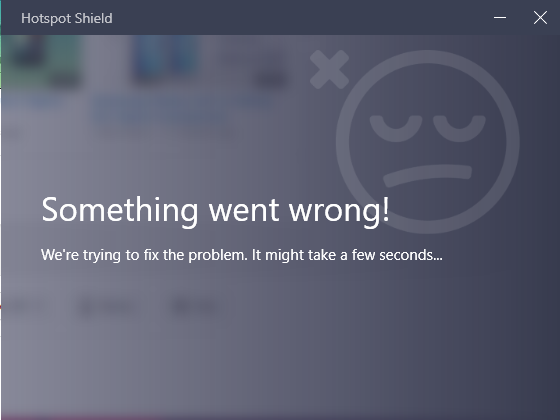 Even though Hotspot Shield is available for Smartphones as well, all of the below-mentioned fixes won't work on them. As some fixes require you to access hotspot shield files that are only visible on PC and cannot be accessed using smartphones.
These fixes are for Hotspot Shield running on Mac and Windows PCs and Laptops.
Fix 1: Restart Your PC
Though this is no fix, it can work at times. A Quick restart solves some of the annoying problems in PC. Something went wrong error may occur because the hotspot shield could not start properly and a restart might fix it.
Fix 2: Run Hotspot Shield Fix Me
Hotspot Shield Fix Me is an inbuilt application included in the installation file of the Hotspot Shield software. What it does is whenever a user faces a problem with Hotspot Shield, it runs itself to fix common problems.
If you have seen the error, it says, "Something went wrong, we are trying to fix it. It might take a dew seconds". The software will run fix" me" application to fix the problem.
However, for an unknown reason, the Hotspot shield was unable to run the fix me program.
When I tried to run it manually, it finally fixed the something went wrong error. So, here is how to do it.
Close Hotspot Shield completely. Click on the Up-arrow icon in the taskbar, right-click on Hotspot Shield and select Quit.
From your desktop screen, right-click on Hotspot shield icon.
Next, select open File Location. It will open the path location to C:\Program Files (x86)\Hotspot Shield\bin.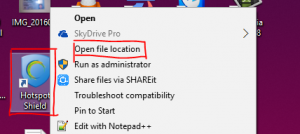 Here you have to search for the hssfixme.exe file.
Once you have found the file, double-click on hssfixme.exe to run it.
Note: If you don't see hssfixme.exe file then click on View (at the top left) and check the option "Hidden Items" in show hide section.
Wait till the hssfixme.exe starts and fixes the problem. Once the problem is fixed, Hotspot Shield will start automatically.
There you have it. Now connect the hotspot shield to the internet and surf anonymously.
Fix 3: Reinstall Hotspot Shield
If nothing seems working, you can try reinstalling the Hotspot Shield. The problem could be with your hotspot shield software itself, and a reinstallation might just fix it.
Go to Control Panel >> Program >> Programs and Feature.
Select, Hotspot Shield, and select Uninstall.
Now reinstall Hotspot Shield, and see if the something went wrong error is fixed.