Microsoft Windows 10 is available as a free upgrade for the users who had genuine Windows 7 or Windows 8.1 activated on their PC. Now to avail the free upgrade, the condition was to first upgrade your PC to Windows 10 and activate Windows 10 and then make a clean install of Windows 10 if required.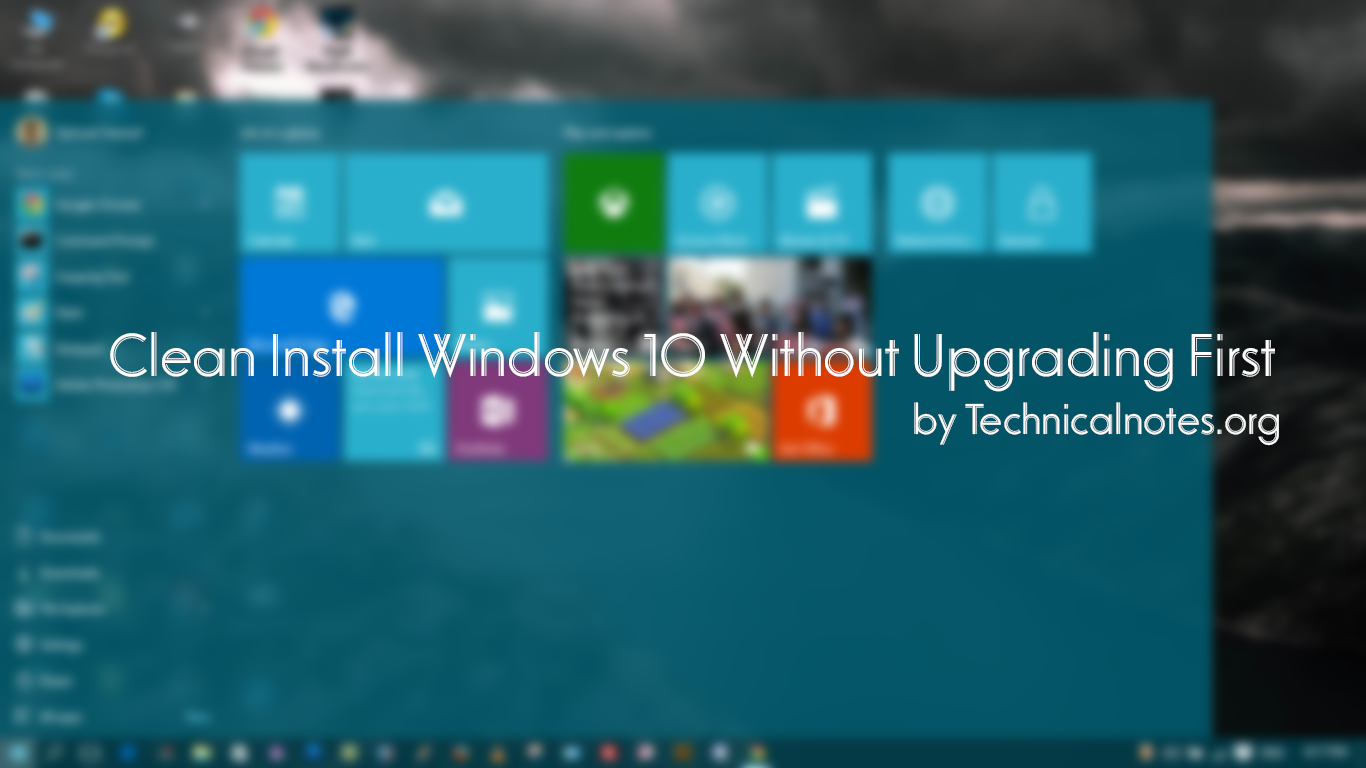 The option to upgrade your existing Windows 7 or Windows 8.1 PC to Windows 10 would be useful for the people who don't want to lose their data and program files installed in their PC. However, for the people who are interested in making a clean install of Windows 10 were forced to upgrade so that they could activate Windows 10 first.
Once you have upgraded to Windows 10 and activated Windows 10, you can clean install Windows 10 on the PC anytime. After the clean install, your Windows 10 copy will be automatically activated.
To the users who are looking to clean install Windows 10 without having to upgrade first, here is a workaround on how to do it.
This tutorial will guide you on how to clean install Windows 10 on your Windows 7 and Windows 8.1 PC, and later get Windows 10 activated legally. Do note, that you should have a genuine copy of Windows 7 or Windows 8.1 already activated in your PC to have Windows 10 activated.
Note: Windows 7 / 8.1 Home users can upgrade to  Windows 10 Home, Windows 7 Ultimate users can upgrade to Windows Pro and Windows 7 / 8.1 Pro users can upgrade to Windows 10 pro.
Pre-requisites 
A Windows 10 ISO File.
Or Windows 10 Bootable USB Drive.
If you don't have Windows 10 ISO or bootable flash drive, read how to download Windows 10 ISO and create Windows 10 bootable USB flash drive.
If you have downloaded the Windows 10 ISO, burn it to a DVD and make a bootable disk. Once you have bootable USB drive or DVD, proceed with the below steps.
1. Log in to your Windows 7 or Windows 8.1 PC as administrator.
2. Insert your bootable DVD into the drive or USB flash drive into the USB port.
3. Now open your USB drive or DVD drive and go to Sources folder.
4. Find and copy gatherosstate.exe file to your desktop.
5. Now right-click on the gatherosstate.exe file copied to your desktop and select run as Administrator.
6. This should create a file named as GeniuneTicket.xml on your desktop.

7. The GeniuneTicket.xml file is required to activate your Windows 10 after performing the clean install. So, move the GeniuneTicket.xml file to an external USB drive or hard drive as a backup.
8. Perform a clean install of Windows 10 on your Windows 7 / 8.1 PC. During the installation process, you will be asked to enter the Windows 10 product key, click on Skip button and proceed with the installation.
9. Wait until the Windows 10 has been installed successfully. Once the installation has finished navigate to GenuineTicket folder. To do this, open File explorer and go to  %ProgramData%\Microsoft\Windows\ClipSVC\GenuineTicket.

10. The GenuineTicket folder in your newly installed Windows 10 PC would be empty. Now you have to copy the GeniuneTicket.xml to GenuineTicket folder.  If asked to provide administrator permission while copying the file, click on Continue button.
11. Now restart your Windows 10 PC. After the restart, go to Settings, click on Update and Security, go to Activation tab and your Windows 10 copy should show as Activated.
If necessary, do another restart and check again if the Windows 10 is activated. Alternatively you can also check the activation status from Control Panel\System and Security\System. Scroll down and under Windows activation section you will see Windows is activated message.
So, this was about how to clean install Windows 10 without having to upgrade first. If you have already upgraded to Windows 10, then you don't need to follow these steps. You can directly clean install Windows 10 in your PC and the Windows will be activated after the installation finished. However, if you haven't upgraded yet, this workaround should come in handy.