You may have often heard about the term Proxy Sites or Proxy VPN.  A proxy Server of Proxy Website allows you to browse the Internet anonymously and also enables you to browse websites which have been blocked by your Organization or ISP(Internet Service Provider). In this post, we have listed down some of the Best Proxy Sites for Safe and Anonymous Browsing.
How does Proxy Server Work?
Proxy Server or Proxy Websites acts as an Intermediate between your Computer and the Internet. It makes an indirect connection between your Computer and the Website you want to browse. When you use a Proxy to connect to a website, the client's computer first connects to the proxy server and requests some resources like web pages, e-books, video files, mp3, e-books, all other resources that are available on the Internet. When the request is received by Proxy Servers, it fetches the resources from its cache memory present in the local hard disk. If resources are not available then it connects to the relevant servers and fetches the resource on behalf of the client's computer.
Why use Proxy?
With the help of Proxy servers, you can access blocked websites and also browse anonymously on the Internet. It changes your IP address allowing to become untraceable on the Internet. This becomes important when you wish to browse a website which has been blocked in your country or by your Organization. There are plenty of Proxy Servers freely available on the Internet which helps you hide your online identity. However, you should carefully select a web proxy server as choosing less-secure proxy sites can land you in trouble. Here are some of the Best Proxy Sites which you can use to hide your Online Identity for safe and secure browsing.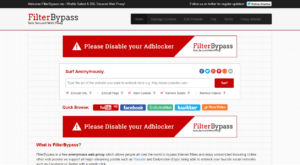 FilterBypaas is a free web-proxy website which is fast, safe and secure. It has a huge user base with Alexa Rank of 38K, thus comes first in our Best Proxy Sites list.  The website is providing anonymous web proxy to bypass internet filters on the web. You can even browse streaming Portals like YouTube and DailyMotion with the help of FilterBypaas.  Connection made via FilterBypaas is secured by 128 bit SSL encryption, thus protecting your Privacy online. It provides fast and reliable service with easy to use interface. Users can control different features such as allowing cookies, Remove Scripts, Encrypt, Page and URL.
If you are looking for a super fast proxy server which lets you browse the web anonymously without showing any pop-ups or adverts then hide.me is for you. This can be considered as the Best Proxy Sites for fast and Safe Browsing.  You can choose to access the web-pages from 3 different server locations-Netherland, Germany, and the USA. Connection. It is widely trusted by over 5 million users worldwide.
ProxySite web servers are hosted om GigaBit network thus keeps your Browsing safe using SSL encryption.  Gigabit network assures that your Browsing speed will never slow down. You can choose whether you want to encrypt your URL, allow cookies or remove scripts and objects. It can unblock Facebook and YouTube so that you can browse these websites anonymously and without restriction.

Unlike other Proxy Sites, AnonyMouse doesn't have a fancy colorful website. It has a basic interface with loaded features which easily gets your work done. There is an address bar where you can enter the URL you wish to browse anonymously. The only limitation of AnonyMouse is that if you wish to browse Secured Web pages, you have to become a premium member by paying a nominal fee. VIP Membership starts from USD 6 per month.
KProxy allows you to securely browse websites using https protocol and is free to use. You don't need to become a VIP Member unlike AnonyMouse to browse secured channels. You can upgrade to the KProxy pro for "no ads" experience and unlimited access to Banproof faster servers. The KProxy browser extension can also be installed if you wish you directly access blocked sites with a single click.
VPNBook provides free and anonymous proxy servers and looks cleaner and less jumbled than others in the list. This Proxy Website allows you to browse HTTPs secured websites and uses 256-bit Encryption to secure your privacy . You can select different proxy servers situated in the UK, US or Canada. You just need to enter the URL of the website you wish to browse and Click on OK.  However, VPNBook doesn't allow to control features like Blocking Scripts, Disallowing cookies, etc. which other proxy sites in the list do.
The main difference you will find in Whoer and other Proxy Websites is that Whoer allows you to choose servers from 8 different locations. You can manually choose from any of those servers located in France, Paris, Amsterdam, Moscow, Russia, Netherlands, Saint-Petersburg, UK and USA. Whoer Premium Plan starts at 4.99USD per month.
Hideester provides free SSL Proxy which also prevents you from scripts and other malicious attacks while browsing the web. It is also known as the most reliable free web proxy servers in the market. You can choose between different servers available at different locations of the world. Apart from Web Proxy, there is also a free temporary email address generator which you can use for bypassing the email verification for different sites.
So, this was our list of Best Proxy Sites you can try to prevent your privacy online. Most of them are free and you need to become a paid member only if you want ad-free browsing experience. If you have any suggestions, then comment down below. We would love to hear back from you.