To do list apps helps you increase your productivity by reminding you of the tasks that need to be done on a day to day basis. We all tend to forget things easily, be it the grocery list or wishing someone on their birthday. This is where the To-do list apps make the entrance. A To-do list app allow you to type down all the tasks for the day, let's you set a reminder and takes away your freedom to say "Sorry, I Forgot it!". Now that you are ready to sacrifice the easiest excuse to make, here are the best to-do list apps for Android and iOS you can install.
---
1. Google Keep
Google Keep is not just a to-do list app but a note taking app it also has a to-do list feature. So, why bother downloading an extra app if you have Google Keep already installed or looking for an all in-app for note-taking as well to keep track of your to-do list.
You can add a to-do list, voice notes, record audio, add images and also support synchronization across devices. It supports Android and iOS, and there is a web version for PC users.
---
2. Evernote
Evernote is yet another famous note-taking app that can also replace your to-do list app without any issues. The app supports multiple platforms including Android and iOS, to begin with.
Google Keep is the biggest rival to Evernote and Microsoft OneNote. Just like Google Keep, Evernote also supports audio recording, note taking, checklist, image support and more.
The app comes in both paid and free version. While the free version might be just enough for most of the people, the paid version offers features like offline access and extra storage.
---
3. Microsoft OneNote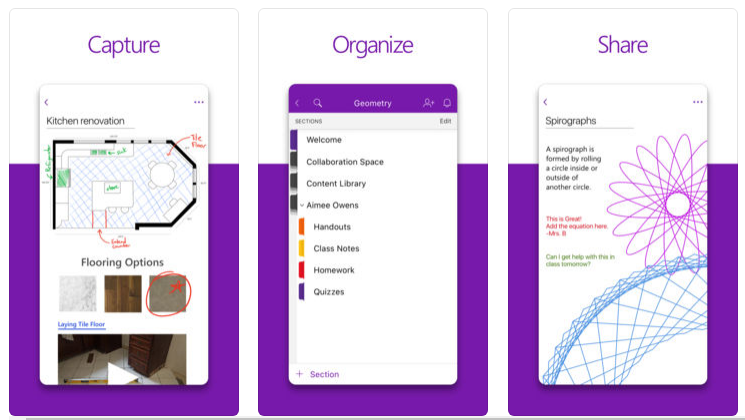 Microsoft OneNote is second to none when it comes to the best note taking app in terms of feature, and it can also act like your to-do list app. You can quickly create a to-do list and keep track of your daily errands and also use it for taking notes on your iPad or Android tablet.
The app supports multiple platforms including Android, iOS and Windows 10 phone and PC. All the notes are synced to the OneDrive account, so you get 5 GB of free storage. Users can get more storage after buying the premium OneDrive plan.
Above I have listed the best three note-taking apps for Android and iOS, and these apps also offer good to do list feature, so if you have installed any of these apps already, use the to-do list feature given in the app. If you don't like, we have more To do list apps below.
---
Also read: Best Apple CarPlay Compatible Apps You Should Know
---
4.  Wunderlist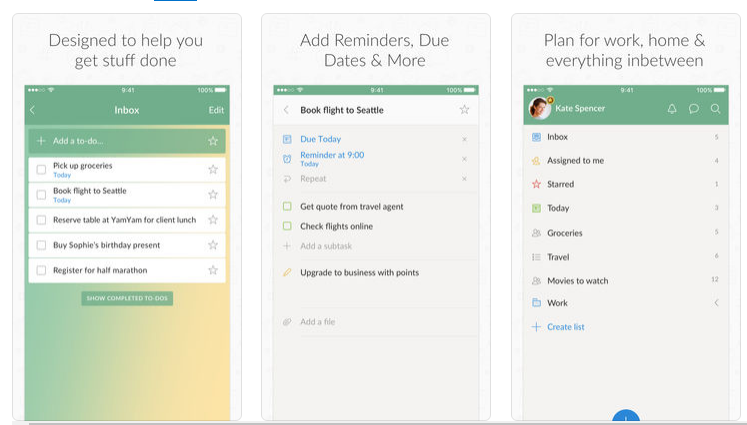 Wunderlist comes with all the features that make a good to-do list app, and it is free to download. There is a premium version of the app if you want additional features in a to-do list app.
You can create a to-do list by setting up new tasks, do a collaboration with other users and also assign work to a group. You can also add photos, PDFs, and presentation to the task. The reminder feature reminds of you time-based tasks.
Wunderlist comes in both free and paid version, and it costs $5 per month. The free version does offer all the essential feature that one needs, but as a premium product, the price is a bit steep.
---
5. Microsoft To-Do
Microsoft To-Do yet another offering from Microsoft, but unlike OneNote, this app mainly focus on the to-do list, and reminder. The app can sync between your smartphone and PC for better collaboration between work and personal life.
You can also share to do list with other users and Steps allows to break down any tasks into small steps for a better workflow. The app also has a reminder and due date feature which is an essential feature for a To do list app.
The app comes with other features such as notes taking, coloring the notes and Outlook integration. Microsoft To-Do uses OneDrive account to store all your to-do list and notes.
---
6. Any.Do
Any.Do is a popular to-do list app for Android and iOS. It is also available on Chrome and Mac OS. The app gets the basics right and offers the users the ability to add tasks, subtasks, note taking and reminder features. The cloud sync feature gives access to your any.do to do list tasks and notes on all the supported devices.
Any.do also supports Amazon Alexa if you own one and there is support for Cal calendar as well. You can share the to-do list and assign tasks to other users.
---
7. GQueues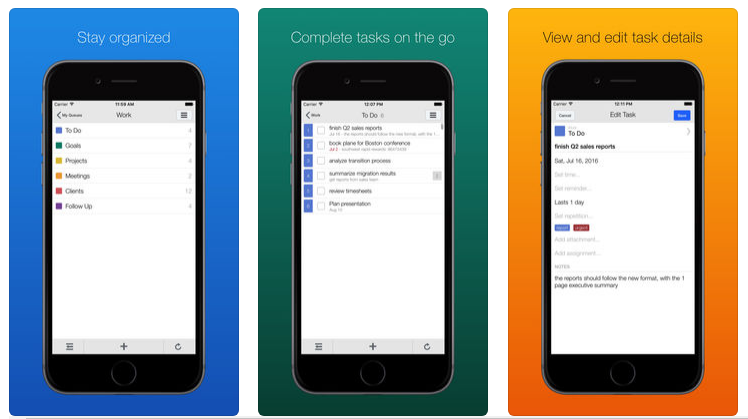 GQueues is not a free app, but it is on the list because it is one of the high rated to do list app available on Google Play Store and the Apple App Store.
The key features of the include Google Calendar integration, a reminder for tasks with due dates, add assignments along with comments and attachment with Google Drive integration. You can also divide a task into subtasks for better workflow.
The to-do list and task list can be shared with other users. It also offers tags and smart filter for better navigation between tasks.
---
8. Trello
Trello is among the top best to do list apps for Android, and it is completely free with all the features on offer for an individual. You can create boards to organize any tasks and use it to share it with other coworkers and friends.
You can also add to do checklists on the card, assign tasks to a particular user and add comments if needed. The app comes with Google Drive and Dropbox support for file attachments. You can also use the app offline, and it will sync the progress when the connection is available again.
---
9. Todoist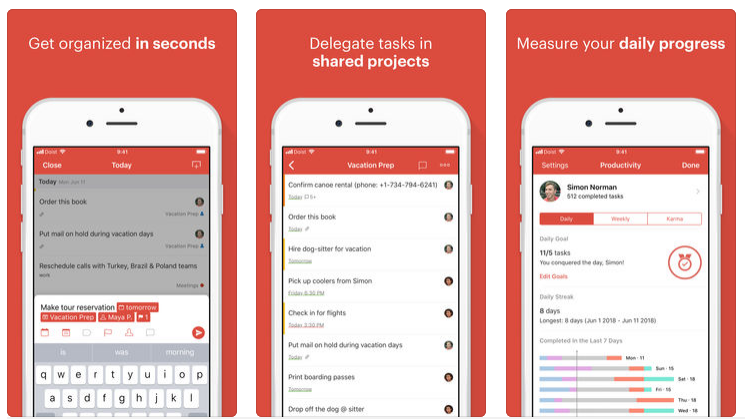 Todoist one of the most popular To do list apps available on both Android and iOS. The latest version of the app does not get all the feature for free that it used to, but if you are looking for a to-do list specifically, then you should give it a try.
You can quickly add tasks to perform with time if needed and the app will set a reminder for you. Do note that the reminder feature is not available in the free version.
Like other to do list app, Todoist comes with task sharing feature along with daily and weekly progress graphs. It is also compatible with Dropbox, Amazon Alexa, Zapier, IFTTT, and Slack.