VPN (Virtual Private Network) allows you to maintain privacy online irrespective of the place you are in. It also does not matter what device you are using as most of the VPN clients supports Windows, Windows Phone, iOS, Mac OS X, Android and more. In today's post, I have listed the best free VPN for Android, iOS and Windows PC and phones.
There are two types of VPN services. Free and Paid. Free VPN clients are good enough for browsing the web and keeping your privacy private. However, the paid VPN clients offer more speed and control over location, etc.
Advantages of a VPN? 
There are several reasons why you might want to use a VPN. However, the most important feature a VPN offers is hiding your location and your identity.
Some people use VPN to access region-restricted content. Suppose you are in India and want to access a website from the US that offers media content then you can do so with the help of a VPN by faking your location.
Another reason to use VPN is to access the website blocked by your Govt or ISP. Some countries have blocked access to social media sites such as Facebook and Twitter. You can unblock social media sites using VPN.
Another good reason to use VPN is to become untraceable by the internet surveillance agencies for your online activities.
So, here is my pick of the best free VPN apps you can use to keep your identity safe while surfing the web anonymously.
1. TunnelBear
Supported Devices: 
iPhone & iPad
Android
Mac
Windows
The only reason why TunnelBear can be called as a best free VPN client because of its easy to use UI. TunnelBear supports 1000s of servers with server locations in 20 different countries.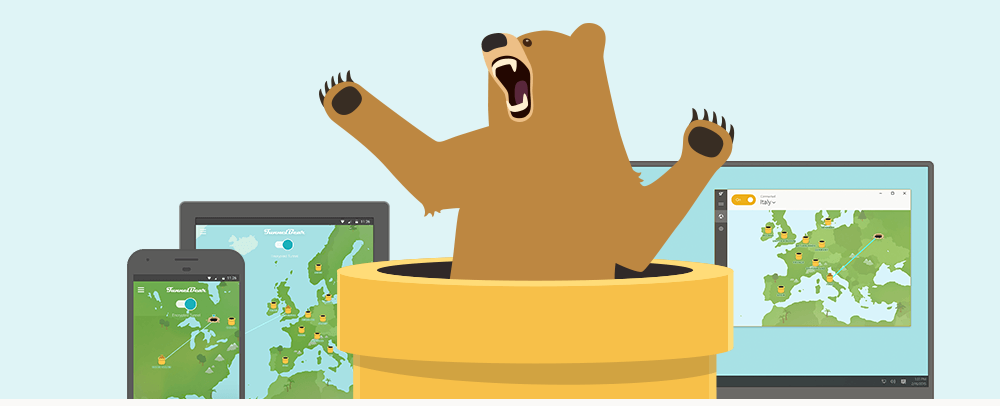 It also supports up to 5 devices at a time. TunnelBear comes with both free and paid subscriptions. The free TunnelBear account offers 500MB of traffic each month. So, that is a downside.
However, if you only need to use a VPN occasionally, then the free plan should work great for you. In case you need a larger plan, you can always opt for the premium TunneBear Plan that starts as low as $4.99 /month.
The performance of TunnelBear is great irrespective of the plan you are using. TunnelBear is the best free VPN for Windows and other devices.
You can give TunnelBear a shot here.
2. Hotspot Shield Free VPN
Device Supported:
Windows PC
Windows Phone
iPhone
Mac
Android
Hotspot Shield is another VPN service provider that offers both free as well as premium subscription plans. Compared to TunnelBear, the Hotspot Shield provides a whopping 750 MB/ day traffic quota to its free users.

However, in the free Hotspot Shield VPN plan, you cannot select the location manually. This feature is only available with Elite Hotspot Shield subscription that offers unlimited traffic with a monthly/yearly / Lifetime plan.
The only downside of Hotspot shield could be is its performance. Your internet performance may take a hit when the Hotspot shield is active. You may also run into problems like something went wrong error.
However, I have noticed that at times it can increase the download speed in a situation where the server may have capped the download speed based on the location of the user.
You can give Hotspot Shield a try here.
Supported Devices:
VPN for Mac
VPN for Windows
VPN for Chrome
VPN for FireFox
VPN for Opera Browser
VPN for iPhone
The list of best free VPN software cannot be complete without mentioning the Windscribe free VPN service.
When compared to the TunnelBear, the Windscribe free VPN plan offers a generous 10GB of monthly traffic quota which is still less than what Hotspot Shield offers.
However, in comparison, the Windscribe may not give you the performance issues like other VPN clients.
Another strange thing about Windscribe VPN is that it is not available for Android smartphones. If you are an Android or Linux user, you should get the pro version of Windscribe VPN to install it on Android devices.
Ultimately, the Windscribe VPN also supports the free and open VPN clients such as OpenVPN, IKEv2, SOCKS5 and more. You can also get Windscribe VPN for a few selected WiFi Routers.
The Windscribe Pro VPN account starts as low as $9 / month and comes with features such as 45+ locations to choose from, unlimited connections and unlimited data.
You can try Windscribe free VPN account here.
4. Freelan VPN
Supported Devices:
Feeling like a geek in the movies who operates everything using the command prompt? Well, then Freelan VPN is the perfect VPN client for you.
The Freelan VPN client is not for everyone but advanced users who are curious about open source software that requires manual setup to make it work.
When you install the Freelan, the program also installs new network drivers and takes controls of your web traffic. Nothing suspicious here though!
Freelan does not come with a GUI (graphical user interface). As a result, you have to control everything using the command prompt.
Do note that Freelan is not just a tool to surf the web anonymously. You can do more than just anonymous web browsing using the Freelan. If you are just looking for an easy to use free VPN client, Freelan is not your cup of tea.
Feeling like a geek? Check out Freelan project here.
5. Speedify Free VPN
Supported Devices:
Windows PC
Mac OSX
Android
iOS
Speedify is yet another VPN client that offers great performance with reliability. Speedify also comes with two subscription option free and premium. You can choose from monthly to early premium subscription plans.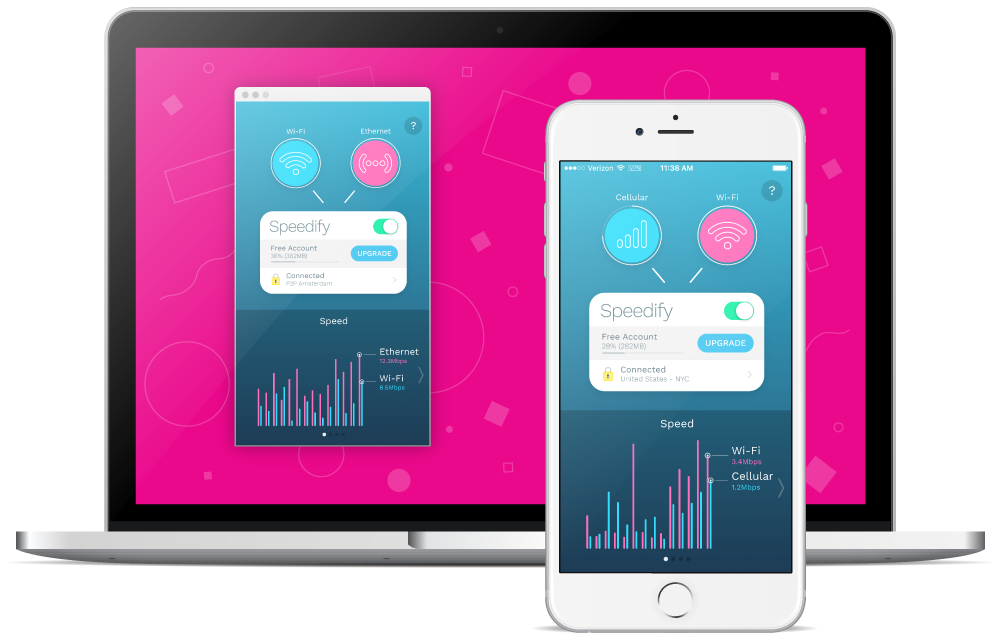 If you don't want to pay for the service, the free Speedify VPN plan offers same reliability and performance but with 1GB of monthly data allowance with limited location selection option.
After the installation, the user doesn't need to login to use the VPN. It also supports mobile devices such as Android and iOS.
You can try Speedify free VPN client here.