When Microsoft announced the launch of Windows 8 they said that the major change was the user interface. They wanted to enhance the user experience with the newly launched operating system. The visual style provided by Windows 8 is liked by many users. But everyone didn't like the interface that Windows 8 provided mainly the Windows startups. If you are among one of them who didn't like the new setup of Windows 8 then you are a right place. Here we have listed the best Windows 8 themes that you can install on your Device.
Windows provide support for many themes even third-party themes. But before installing themes to your system you have to see the procedure. Unlike Windows 7, the theme installation process in Windows 8 is different. Don't worry it's very easy you just have to do some modifications in the system file which is done using UltraUXThemePatcher.
Procedure to Install and Apply Themes to Windows 8
To install Windows 8 themes firstly you have to patch UxTheme.dll file on your system. The process is super easy using the tool called UXTheme Multi-Patcher tool. The tool has the ability to patch theme engine files to install any third party visual styles on your system.
Download  UXTheme Multi-Patcher tool and then extract the download program. Now install the software on your Compuhttp://www.windowsxlive.net/uxtheme-multi-patcher/ter. After the successful installation of the software Restart your system once. Now you can install any third party themes to your Computer.
List of Best Windows 8 Themes
1. Abisso 2014
A dark theme but a popular one among the techies. Users who spend a long time on Computers at night like this theme for sure. Hackers and Gamers prefer the dark nature of this theme.
Download from Here
2.  Aero Glow 8.1
If you don't like the Windows 8 theme then this one will scroll back to Windows 7 theme. The theme is pretty simple but an attractive one as compared to old Windows 7 theme.
Download from Here
3.  Bel Minimal
Provide an interface like Ubuntu and if you like Christmas Style then this is one you should install. Clean and good looking users who want an empty desktop.
Download from Here
4.  CamVs
CamVs theme provides a simple and attractive design. Its interface is eye-catching one with little modification as compared to official Windows 8 theme provided by Microsoft.
Download from Here
5.  Elegant
Elegant is the combination of both Windows 7 and 8 themes. The tiles like structure expand when opening the different tabs. Background have different color combinations.
Download from Here
6.  Mimi
Mimi has flat interface which divides the screen into two half. Provide taskbar at the top of the screen.
Download from Here
7. Vlinder
A different one to traditional themes as it provides a different icon. But a good one who likes a little bit of an Art in the icons.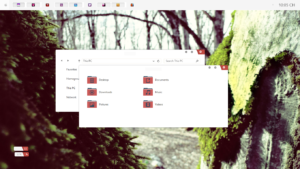 Download from Here
8. Tequila Port
Have less design gives Apple like feeling. Have some of the great shortcuts which are missing in other theme is very handy in some functioning. When using you get used to this shortcuts.
Download from Here
9. Minimal
Minimal is almost similar to the Windows 8 official themes having few modifications in the icons when compared and look. Background images used in the theme is attractive.
Download from Here
10. Naumn
It is almost similar to Bel Minimal, and a simple one. It's upside taskbar looks very interesting and handy for the users who like taskbar on the Top.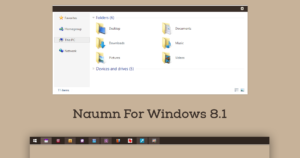 Download from Here
11.  Adobe CS 6
As the brand is Adobe it provides the user to make modifications to the theme. Have a greyish design in the Window.
Download from Here
12. Xsun
Download from Here
13. Snow Leopard Glass
Snow Leopard Glass gives you the feeling of an icy region. The theme background and the icons have snowish color to it with an awesome look.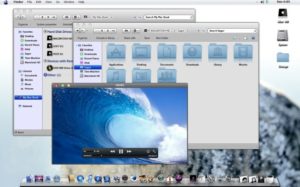 Download from Here
14. Metro Luna
A Windows XP inspired theme with advanced design integrated into it. If you liked Windows XP then try this one.
Download from Here
15. Apodio
Download from Here
16. Dark8
Another dark theme in the list is Dark8 as the name suggests have a dark interface. Good one for those who like dark interface themes and works late night.
Download from Here
17. Soft Glass 8
This one is an obvious choice for one who is fine with Windows 8 themes and wants the only simpler look at the Computer.
Download from Here
18. Liza Dark
Liza Dark is different one has flat User Interface by minimizing the interface. If you want to try something different then must give a try to this one.
Download from Here
19. 8look V3.1
8look has different visual style as seen in the image. Have small pop-ups vertical and horizontal one.
Download from Here
20. Blaze Final
Blaze final is the combination of dark theme and normal theme. This combination of theme enhances the look of the screen.
Download from Here
We have listed 20 Best Windows 8 themes from the bunch. Almost all the themes in the list are from Deviantart which is a great source when you are looking for Windows 8 themes. The links to listed themes are already provided by us. Do comment in the comment section if you find any difficulty installing Windows 8 themes.