Evernote is the best note-taking app if you ask me and rightly so with all the feature it has on offer or had on offer. However, the latest development at Evernote left a good number of users disappointed. Evernote decided to limit the basic account access to two devices and raised the "Premium" and "Plus" subscription plan fee considerably.
While Evernote has said that it will give the basic account users the time to adapt to the new changes, we took the liberty and compiled the list of best Evernote alternatives app you can try. After all,
"change is the only constant thing".
Not my quote, all credit to Heraclitus. Let's begin.
---
1. Microsoft OneNote
Price – Free
Free Storage – 5GB through OneDrive
Get the App >> OneNote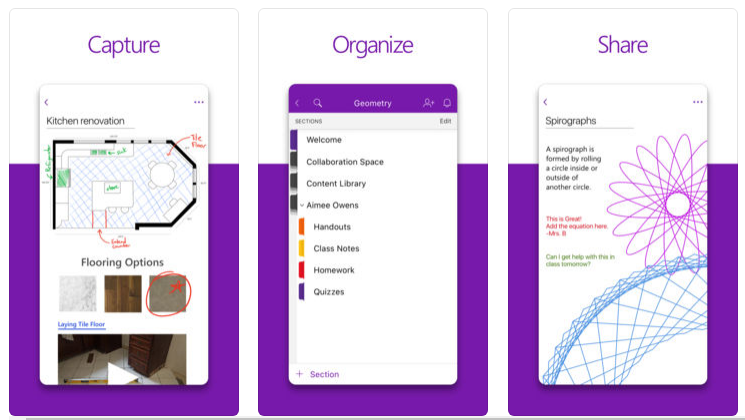 The best thing about OneNote from Microsoft is that it comes pre-installed with Windows 10 PCs. So, if you are a Windows 10 user, you have it installed already. It also supports mobile devices like Android and iOS device including the company's own Windows Phone. What's more? It even has a web app.
While OneNote offers almost all the features available in the Evernote app it also has its own features to make the best alternative to Evernote. Using OneNote, you can import text and tables from other Microsoft Office app, add audio as well as email content to a note.
The app also allows you to organize links, text, images, and drawings in a note and all the notes will be stored in OneDrive account. The OneDrive account now comes with 5 GB of free storage which is enough for notes and if you are not storing too many images.
OneNote also supports handy extension like OneNote Web Clipper allowing to add webpage screenshots. Apps like WordPress and LiveScribe also support OneNote.
2. Google Keep
Price – Free
Free Storage – Google Drive 15 GB
Get the App >> Google Keep 
Google Keep has evolved over the years and is one of the best Evernote alternatives if you ignore the lack of support for Windows OS. The app is available for Android, iOS and in Web version for PC users. It is also one of the best to-do list apps for Android.
It can sync notes across the devices and platforms. Supports audio notes, checklist, image, reminder, etc. features just like Evernote. A handy feature in Google Keep is Fast search. It allows you to search for text in pictures by typing them.
You can organize notes by topic and labels. Google Keep integrates well with the Google Drive as all the documents are stored in Google Docs. The app lacks import option which is again a problem with Evernote. It also lacks rich text formatting. And if you ever want to export to Keep notes to Evernote again, that will be a problem as well.
---
3. Simplenote
Price – Free
Storage – Unlimited
Get the App >>  Simplenote
Simplenote supports all the major platforms including Windows, Mac, Linux, iOS, Android, Kindle Fire and a web version. As the name suggests, the app is a simple note-taking app. It only supports text notes only. Which means you cannot add images, audio, and drawings in Simplenote. However, other basic functions such as note sharing over email, quick search and sync are well supported by the app.
Simplenote is the best note-taking app if you need a note-taking app for text notes only and can do without other multimedia features offered by Evernote and other apps.
---
Also, read: Best Productivity Apps for Android
---
4. Dropbox Paper
Price – Free
Storage – Unlimited
Get the App >> Dropbox
Dropbox Paper is a serious alternative to Evernote with free unlimited storage and all the features it has on offer. You can add images, tables, and tasks to the notes. Paper has been designed by keeping professionals and teamwork in mind. Using the app you can write, edit, review, assign tasks all at one place with your team in real time.
You can also add comments to any part of the paper using the annotation feature along with emoji support just in case. You can also drop documents, YouTube video, GIF Pinterest, Google Map links in the paper.
---
5. Box Notes
Price – Free
Storage – 10 GB (Box Integration)
Get the App >> Box Notes
Box Notes is a multi-platform app by Box and is available on Android, iOS, Windows, Mac, and Linux. You can also access Box Notes from the web. The service comes with 10 GB of free storage space to store all your notes.
The Box Notes is somewhat similar to what Dropbox Paper is trying to achieve that is to provide the teams with access to notes taking real time. Box Notes offer the basic editor with all the features required including the checklist option available in Evernote.
You can view all the users editing the documents on the editing page. Dropbox Paper and Box Notes app are a great way to discuss and brainstorm with your team without physically being at a single place. Team members can make revisions to the notes as well. This is your Whiteboard online that can be accessed by the whole team.
You can also add tables, images, and comments in the Box Notes tagging your team member individually without bothering everyone else.
---
6. Apple iCloud Notes
Price – Free
Storage – iCloud Storage
Apple iCloud Notes is a platform restricted app, but if you are okay with the lack of support for other platforms and are using Apple device like the iPhone and Mac, then Apple Notes is a good alternative to Evernote.
The Apple Notes are saved in your iCloud account. The notes can be organized in the folder, and you can lock notes with Touch ID or a password for better security.
---
Also read: Best Apple CarPlay Compatible Apps
---
Apple Notes offer all the other note editing features such as image or video insertion, add documents as attachments, to do checklist and more. You can also recover old iCloud Notes deleted in last 30 days. The disadvantage, however, is that you can only access the iCloud from the iCloud website. While you can access it on almost any device, you can't download it as a standalone app.