One of the best highlights of the Windows 10 launch was the Cortana. A personal voice assistant for Windows devices including the Windows 10 PCs. Cortana can do a lot of things. Cortana is your genie, say Hey Cortana along with the task phrase and it will do it.
Want to perform a quick currency conversion? Don't know today's weather? Want to fix an appoint? Too busy to send a text message? Oh, you want to track your package? Simply ask Cortana, and she will do it for you instantly. There are a lot of things that Cortana can do, and in this article, I have listed 10 best Cortana tips and tricks to make you more productive.
---
1. Track Packages and Flights
Cortana can scan your email accounts configured in the Mail App and add the information to Notebook to keep track of packages using the tracking ID.
However, this only works if the package details are sent to your email account configured in the Mail. If you want to track a package with only the tracking ID, then you can do it by entering the package tracking ID in the Cortana search bar.
Open Cortana and type the tracking ID.
Click Track your Package.
Alternatively, you can also add the tracking ID to the Notebook and let Cortana show you the tracking updates whenever you open Cortana.
To do this, open Cortana and click Notebook.
Turn on Package tracking card option.
Click Add a Package and enter the tracking ID.
Check Flight Status
Cortana can also help you check the flight status using the flight number.
Open Cortana and type the flight number in the search. Cortana will search for the matching details and display Flight status along with departure and arrival timing.
---
2. Cortana Translator
While you can use Google to translate any phrase for you, with Cortana, you don't even have to open your web browser to access Google.
Cortana can translate several languages in no time and also pronounce the translated words (when available).
To use Cortana translate feature open Cortana and type Translate followed by the phrase that you want to translate along with Language name.
Example – Translate How are you to French.
To perform a voice search, say Hey Cortana: How do I ask How are you in French.
Cortana can translate all the major languages spoken in the world as of now including Chinese to Hindi and Slovenian to Korean.
---
3. Cortana's Shazam Moment
Have you ever come across a song that just blew your mind but couldn't find the name of the song? Cortana can help you find your new favorite song in no time. Cortana has this feature that identifies the song name after listening to it from the microphone.
To identify the song using Cortana:
Open Cortana and click the Musical Note icon at the top right.
Or say, Hey Cortana: what song is playing?
Cortana will now look for matching details and show track details such as Song name, album, and artist, etc.
---
4. Set Reminders
Just like any other personal voice assistance, Cortana can set reminders for you. You can set time-based, person based and location-based reminders in Cortana.
Time-Based Reminder – Open Cortana and set a time-based reminder by typing Remind me "things to remind" and then click on
Time and finally click on Remind button.
Example – Remind me to visit Anand at 10 AM
Person-Based Reminder – Cortana reminds of things to do when a person calls your messages you.
Example – Remind me to ask for the WiFi password when someone calls.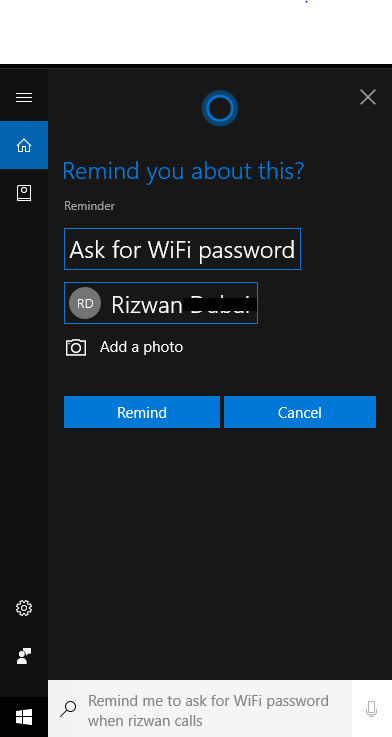 Location Based Reminder – Cortana can also remind of you a task to do when you reach a specific area.
Example – Remind me to pay Internet bill when I reach the office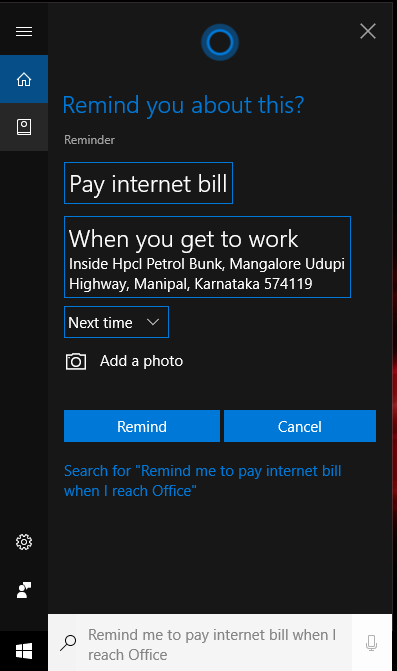 Note that to be able to perform this task Cortana needs to know your office address. So, if you haven't set up your office address already with Cortana, it will ask you to set the office address before setting this reminder.
---
Got a new PC?  Best Windows 10 Apps to Install on a New PC
---
5. Perform Basic Math and Unit Conversion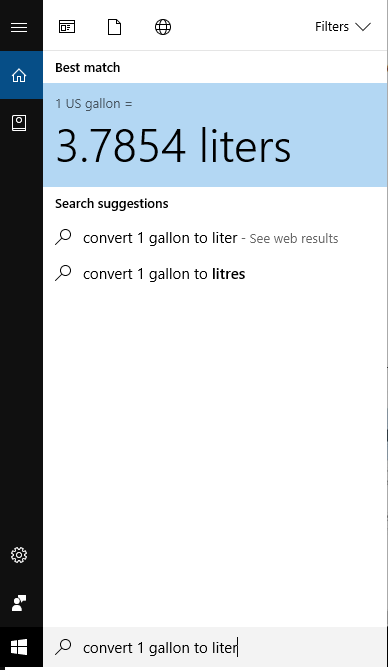 Cortana also has some nifty features up its sleeves, and one such feature is the ability to perform basic math and unit conversion.
Apart from currencies, Cortana can convert temperature, length, weight and liquid units.
To perform arithmetic or unit conversion, do the following.
Open Cortana and type:
Calculate 8 x 3 + 6
Convert 1 Gallon to Liters.
---
6. Cortana Navigation
Cortana can also help reach the destination or find a location nearby. You can ask Cortana to give turn-by-turn direction for any destination. Make sure that you have latest updates installed for the Maps app.
To find any location, open Cortana and type " Direction to location name."
Example – "Direction to City Center Mall"
---
7. Send Emails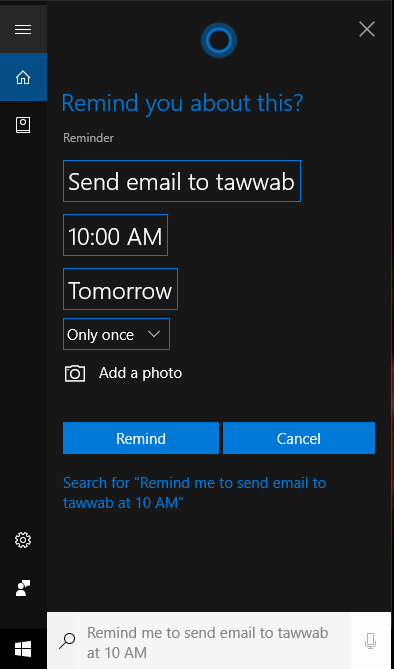 You can ask Cortana to send an email to someone without having to open the Mail app. The only thing needed for this feature to work is that the email account you want to use is configured in the Mail app.
Open Cortana by clicking the search box.
Type or say " Send an email" and click the result. Type the recipient address, subject, email body and click Send.
---
8. Cortana as Tech Support
Apart from performing basic arithmetic and unit conversion task, Cortana can also help you with your tech support. Let's say you want to know how to protect your screen. Instead of searching the search engines, ask Cortana the same, and it will show you the step by step to project your screen.
Open Corta and type How do I project my screen?
Not all the questions are directly answered instead Cortana redirects the users to Microsoft page or bing page with the search result.
---
9. Send a Text Message from your PC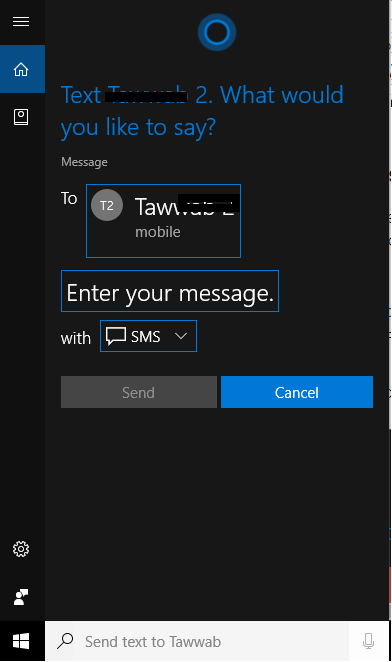 If you are too busy to leave your PC and use your phone to send a text message, ask Cortana to send a text message. Cortana can send a text message from your PC provided that the contact details are available in the People's app. To send text messages using Cortana do the following.
Open Cortana search box and type Send Text to followed by the recipient name and hit enter.
Type your message in the message box and click on Send.
---
10. Change Cortana Default Search Engine
By default, Cortana has set its preferred Search Engine to Bing, and there is no built-in setting to change the default search engine on Cortana.
While Firefox does allow you to change the Cortana search engine to its default search engine, Chrome doesn't have any such feature on offer yet.
However, you can bypass the restriction in Chrome by downloading Chrometana plugin for Chrome browsers.
Chrome tank is a third-party Chrome extension that redirects all the Cortana search queries through Google, Yahoo or DuckDuckGo.